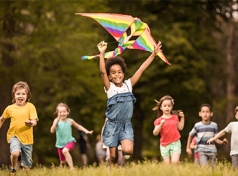 By Janet Ogron, JCFS Jewish Community Liaison 
Without a doubt, Covid-19 has thrown all of us onto a road never traveled before. This is especially true with navigating parenting issues during the pandemic. Parents and students alike grappled with school closures, online learning, working from home, and social isolation. More than anything, parents and children of all ages felt anxious, and had to learn how to deal with the effects of these new stressors on their mental health.  
As the school year has wrapped up, the tension and anxiety eased up a bit. Many students were able to experience a full school year with minimal online learning and mask optional requirements, which provided the opportunity for social activities, sports, and other extracurricular events. Now that it's summer, children and preteens are excited (and perhaps a little nervous) to be going back to camp and experiencing that unique brand of togetherness and spirit.  
As parents, many of us are still riddled with uncertainty and anxiety about what the summer will bring. In the past, many parents felt a sense of comfort and ease that they were sending their children to a place they enjoyed, felt safe and had fun. Now we're wondering whether our children will contract Covid, and if they do, how sick will they be? If they are away, will the camp be able to accommodate them or will we have to pick them up and bring them home? Parents are looking for control in a situation where there isn't any.
So, what can parents do?  
1. Focus on what is important and controllable. Talk to your children prior to leaving and review safety measures (whether they want to hear it or not). Check in by email with the camp to see how things are going– this may help to alleviate the fear of the unknown.  
2. Stay active and connected. Take time to read, take a walk, or listen to relaxing music. You can also practice mindfulness, yoga, or meditation to reduce stress. 
3. Seek support from a mental health professional if you're having significant trouble coping with stress or anxiety. 
Parents, take care of yourselves this summer. Don't forget we are all in this together. We are experiencing the impact of this health crisis together. Be kind to yourselves and when you are feeling unsure, seek support and care from your family, friends, clergy, and anyone else who you feel comfortable with. If you are looking for a professional to talk to, JCFS can help. Simply give us a call at 855.275.5237.