The Outgoing Sibling
Helping the World See My Sister the Way I See Her
By Renee Birnberg Silberman
My sister is the most emotionally intelligent person I know. Our mother liked to tell me Estella was so smart, but I brushed her statements aside for most of my young and young adult life. After all, she had been tested as having lower than average intelligence, and the doctors told my parents (over half a century ago) that the best place for her to grow up was in a nun-run facility in Wisconsin.
Back then, children like Estella weren't considered equals, weren't deemed fit to contribute to society and were kept out of the public eye. But on the ride home from visiting that facility in Wisconsin, my parents decided they would keep Estella with them and do everything possible to give her a normal life.
Our parents were Holocaust survivors. Each of them lost their entire family. It was just me, Estella and our older brother who had to fill the void. And the fact that my sister was treated as less than a perfect human by the outside world only added to their current and post-traumatic stress. And as Estella grew up, going from her special education classroom to tutors and therapists, I came to understand that I would be the one to take care of her one day when our parents were gone.
My sister went all through high school in special education classes, in many ways thanks to a teacher named Miss Stewart, who helped Estella and her classmates feel part of a bigger community. And through the school's vocational training, Estella graduated and took a job as a teacher's assistant at the local daycare center. She could walk from home to work and back, which also gave our mother some normalcy -- time to go the gym with friends or out to lunch and instead worry about me being a teenager.
While I knew Estella would count on me someday, I spent my teenage years pretending she wouldn't. I let my parents do all the heavy lifting, and I didn't speak about Estella to my friends. Then one day, as I turned 20, I lost Estella. Literally.
I was going out to a club with my friends and our mother asked me to take Estella with me. I rolled my eyes, I tried to say no, I made a million apologies to my friends and I took my sister with us. But while I was on the dance floor, Estella disappeared. She wasn't waiting at the table where I had left her and told her to sit still. She was nowhere in the club. She was gone. There wasn't a cell phone I could use to text or call anyone, nothing I could do but enlist my friends to search outside the club and call our parents -- and the police. I went home. A few hours later Estella was brought back home and real life began in earnest.
Estella kept her job at the daycare for decades. She loved being around the little kids and they loved her. We'd bump into teenagers at a local store who remembered Miss Stella. The reunions would always be the same -- full of smiles and my sister's pride at how her former "students" had grown.
Finally, I began to see what my mother saw. My sister had a special gift for people. Estella was the more outgoing, people-centered sibling, whereas I was in my head worrying about her in every other way.
When the daycare center closed, Estella had grown older and the world had grown more complicated. She couldn't get a similar job at another day care without passing tests. Our mother refused to consider letting Estella work in one of those sheltered workshops in dark and dingy factories, or standing on her feet for hours as a grocery store bagger, so I refused to consider these places where adults with intellectual disabilities usually work. What was my sister to do? What was I to do for her, knowing the parameters for her life that our mother desired?
By this time, our father had already passed away, and our mother would say to me, "how can I close my eyes until I know what will happen with Estella?" She and Estella were roommates, best friends and constant companions. Our mother turned down invitations for meals if Estella wasn't invited. My mother's unrest upset me -- I wanted her to live out her life happy and surrounded by joy. But she was so fiercely protective of Estella that she sacrificed her own happiness to ensure Estella wouldn't be lonely. Meanwhile, I was grateful that Estella did the heavy lifting as a caregiver to our mother, while at the same time wondering how I could ever do the same for Estella.
What I knew about Estella was that she was quiet around me, but she blossomed around people. Just as I saved my attention to her for when I'd really need to step up, Estella saved her energy for when she'd be around others. She so wanted to help people, to contribute in some way, but she was too high-functioning for the agencies out there that seemingly offered help.
By this time, I had four children of my own, and a light started appearing in the distance. My kids went to Solomon Schechter Day School, where students who had intellectual disabilities were in their classrooms. They volunteered at Keshet's Sunday School, and began to have a close relationship with Estella, learning on their own that Estella was just like everyone else -- a person who wanted to feel valued and loved, a person capable of participating.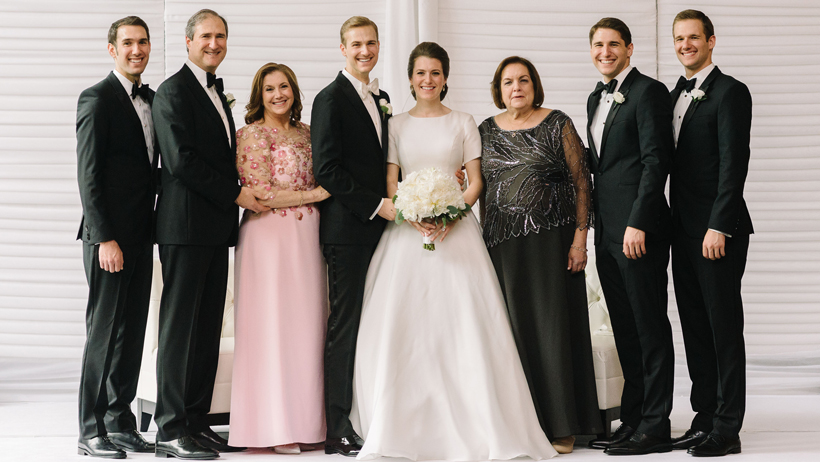 I thought I would have to teach my children about how to respect Estella and include her in their lives, but they were teaching me that Estella could be included in a wider world. Their openness to see Estella as just Aunt Estella, with no special baggage or barriers, relieved me of some of my baggage.
When our mother died, Estella was still living in her house. Reality and responsibility set back in, in full force. Estella came to my home for Shabbat dinner fairly regularly and one week I invited some family friends who brought me a hostess gift -- a set of beaded serving utensils made by participants in Keshet's new adult day program. I looked at them, and said that Estella would love to do that kind of craft. I didn't know much about the adult day program called GADOL (Giving Adults Daily Opportunities for Living) but I knew where it was located, so I took Estella there to visit.
The participants were playing on laptops, painting, talking with each other, but they were decades younger than Estella. I didn't know if she would be accepted. But after speaking with the program director, and explaining how Estella loves being around people and doing crafts, we decided to give it a try.
Estella began going a few days a week, and soon every weekday, making new friends and learning new skills. She took yoga and joined a book club. She learned self-defense and began painting -- in fact, she's sold many of her cards and canvases, and that brings her such pride and accomplishment. I smiled inside knowing this was a good place for Estella. Our mother would approve.
But Estella's living situation was still unresolved. She couldn't live on her own, but when we visited supported living homes we were turned off. Then a solution presented itself: Three of Estella's new friends from GADOL had moved into an apartment supported by Jewish Child & Family Services, and they were looking for a fourth roommate. Estella was older than her friends, but she felt like a big sister or young aunt, offering reassurance and encouragement.
Estella moved into Heichal House in Rogers Park three and a half years ago. The transition to a new home and a new life was basically seamless. Attending Young Israel of West Rogers Park quickly became part of Estella's weekly routine, and the social activities offered by GADOL and JCFS keep Estella so busy she barely has time to see me.
Of course, Estella always makes time for my kids when they are home from school. In many ways, she has taken on the role of matriarch of the family. She knows what's happening in each of the kids' lives, and they visit her in her new home with her new friends.
When I thought that Estella's new life couldn't get any better, it did. GADOL found her a new job at Little Beans Café in Evanston where she makes more than minimum wage and gets all kinds of positive reinforcement and socialization opportunities. She is thrilled, and even took on a new volunteer job at Random Acts of Flowers bringing donated flowers to people to brighten their lives. Pretty soon she's going to learn flower arranging.
These days, Estella is surrounded by joy. A joy that I wanted for our mother, but that has instead nestled into the many folds of my sister's life. This gives me peace. This past summer, one of my sons got married in Canada, and with help from GADOL, Estella made the trip. She was beaming with pride and love and we share moments of joy on the dance floor that would not have been possible years earlier.
In almost every interaction with friends, I am asked about how my sister is doing. Or I'm told that a friend saw my sister somewhere and that she looks so happy. I sometimes get worried calls from family friends -- "Estella's not answering her phone. She's never home. Is everything ok?" Yes, I reassure them. Our lives have all evolved. I'm not hesitant to take Estella with me anywhere anymore. If anything, I hope that Estella can make the time to be with me.
More importantly, I can never lose her again. She is deep within my heart and my children's hearts. She has made us all so proud, but mostly, she has made herself proud. And we know, our parents are looking out at Estella and feeling at peace with her new life.
Why is inclusion important? Because Estella, the smart person our parents always believed in, finally feels like an active, contributing, accepted and loved part of our Jewish community and the workforce. She is a painter, traveler, volunteer, hard worker, nurturer and more.
Thanks to Keshet's GADOL, JCFS, Young Israel, and the many support staffers who give tirelessly to make each day a good one for Estella and others like her, my sister can live a full life and touch the lives of those less fortunate than she. Estella has come to live the possible and shown others what their lives can look like.
Thanks to the Jewish community of Chicago, for seeing Estella, for helping both of us to get to this point, and by providing hope for so many others.
Renee Birnberg Silberman is a Chicago native who has been involved in Jewish communal activity since her teens. Educated as an attorney, Renee's mission is to give voice to those who can't speak up for themselves. She is a past member of the boards of Solomon Schechter Day School, Ida Crown Jewish Academy, SHALVA, and of the Women's Board of the Jewish Federation of Metropolitan Chicago. She is a current member of the Board of Sheerit Hapleitah, Chicago's umbrella organization for Holocaust Survivors, and of CJE's Holocaust Community Services Emergency Financial Assistance Committee. She is also co-chair along with her husband, Dr. Joseph Silberman, of the U.S. Holocaust Memorial Museum's Children of Survivors Chicago area cohort, as well as a docent at the Illinois Holocaust Museum and Education Center.
In her free time, Renee enjoys playing mah jongg with friends, cooking a mean goulash (or anything else requested by her four grown sons and daughter-in-law), or enjoying a hot fudge sundae from Ghirardelli -- not necessarily in that order.
For more stories in the "Accepted, Welcomed and Included" blog series, visit oychicago.com/included
This article originally appeared in Oy!Chicago on February 5, 2018. It has been repurposed with permission.