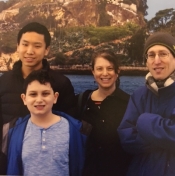 By Nicole Druckman
Each fall, my husband and I turn our thoughts to adoption. While adoption is on our minds all year long, we think about it even more at this time of year. In addition to November being National Adoption Month, which raises awareness of adoption, each September our family also celebrates "Gotcha Day" – the unforgettable day our son, Jake, joined our family.
From the moment we set eyes on Jake's picture, when we were in the process of adopting from South Korea, we were smitten with this boy with the very round cheeks and expressive eyes and eyebrows! In one of the happiest days of our lives, but also less than a week after the tragedy of 9/11, we picked Jake up from the Minneapolis/St. Paul Airport when he was just shy of turning five months old. During that very difficult time for our nation, Jake's arrival gave us much hope and happiness. Since becoming a family, Jake has brought us joy absolutely every day with his mischievous sense of humor; his care and concern for his family, nature, and animals; his honesty; his perseverance; and his commitment to his dreams, one of which is to study finance in college, which remarkably, he started this fall.
In thinking back to those earlier years, though, when we first took Jake home, I remember how simultaneously, wonderful and strange it felt, all of a sudden, to have an infant, and an older one at that. During the adoption process, we had so much close contact with our adoption agency, only to have one more post-placement visit once Jake arrived and then, we were on our own! While it was great to have dedicated time together as a family, we also felt a bit lonely. We did not have family in the area, and not all of our friends were starting families yet. Minnesota, at the time, was known for its high adoption rates, and we met many families formed by international as well as domestic adoption. Yet, we were eager to meet other Jewish adoptive families—people who could truly appreciate the experience of raising a child, in many cases outside of their own race, in the Jewish religion and who had similar questions about issues such as conversion; how to help our children navigate and feel prideful of their various identities (e.g., Korean, Jewish, adoptee); and how to honor our children's (non-Jewish) birth families and traditions while staying true to our Jewish heritage.
As life got busy with a baby and then, as Jake grew into an active toddler, we did not quite realize the goal of forming a network of other Jewish adoptive families. Then, when Jake was four – and after I gave birth to our second child, Sam – my husband's career brought us to the Chicago area. About a week after arriving in Evanston, I saw a listing in a Jewish newspaper for an adoption and infertility support event and called Marsha Raynes, JCFS Adoption and Infertility Support Director. We were thrilled that we had found JCFS' Adoption and Infertility Support program and services, part of JCFS Chicago's family of services along with a Jewish adoption community. We attended social events such as Adoption and Infertility Support's annual Chanukah party; adoption conferences and other educational activities; and a transracial adoption support group. At the group, as we discussed the various joys and challenges of being a conspicuous family (one where people see racial differences right off the bat), I met a good friend of mine who happens to live just blocks away with her son, who was adopted domestically from Chicago. Also, Marsha is readily accessible if you have specific adoption-related questions or need help linking with area adoption resources.
JCFS Adoption and Infertility Support services provided my family with the opportunity to meet other Jewish adoptive families and to feel supported in our adoption journey. Adoptive parenting, in my view, is like regular parenting with all the busy-ness of work, school, extracurricular activities, and well, just life, woven in, but with an additional layer. While questions come up for most adoptive families, there is an extra layer of complexity as multi-cultural and multi-racial factors intersect with Jewish identity and mores. Some questions and issues we find ourselves facing, for example, include:
When Jewish holidays arrive, how do we navigate being one of the few multi-ethnic families as we worship?

Will there be a day when our son questions his Judaism, as he transitions to adulthood?

Will our son date and/or marry someone Jewish? And will a Jewish family welcome him wholeheartedly?

How do we handle insensitive comments that challenge Jake's legitimacy as a Jewish person (e.g., we have been asked at times if Jake is really Jewish)?
Making connections via JCFS' Adoption and Infertility Support has enabled us to realize we are not the only ones pondering these types of questions. Various programming and the resultant social interactions in fact have helped us learn that these challenges can be seen as opportunities to grow and embrace all that is our son and form what we think is a perfectly blended family.
As our family needs and involvement change, we will still turn to JCFS for programming and support. JCFS Adoption and Infertility Support continues to offer an array of relevant, timely and thought-provoking programming. Recently, I went to Adoption and Infertility Support's first book club, where we discussed the remarkable novel "The Tea Girl of Hummingbird Lane" by Lisa See; the book chronicles Chinese adoption from the point of view of the birth mother, side-by-side with a story about her daughter as she grows up in California. I also have the honor of serving on adoption and infertility support's Advisory Board, a group of adoptive parents, Jewish communal professionals, and area adoption and infertility professionals who advise and provide support to the program's director and activities. In addition, just knowing that Adoption and Infertility Support exists and that the Chicago Jewish community finds it a worthy investment is critical for us. It provides a feeling of legitimacy and belonging to diverse Jewish families like ours.
In closing, I am grateful to JCFS Chicago's adoption and infertility programming and services for being an incredible source of support and community resource to me and my family. Eighteen years ago, we underwent one of the most significant events of my life when we chose to adopt our son internationally. I thank Adoption and Infertility Support for helping us as we travel on this extraordinary journey.
As part of the JCFS Chicago family of services, Adoption and Infertility Support strengthens, educates, and connects diverse Jewish adoptive and prospective adoptive families with services and programs in their communities. Adoption and Infertility Support also helps and embraces individuals who are struggling with fertility issues and exploring assisted reproductive options. For more information, please contact Marsha Raynes at 847.745.5408.