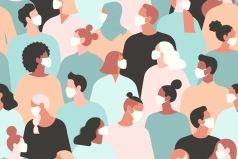 Nina Henry, LCPC, CADC, Addiction

Specialist & Mental Health Educator
As we reach the one-year anniversary of the initial lockdown, we pause to reflect and look to the future. Many times, throughout the days, weeks and months of this pandemic, I have experienced an odd déjà vu, where I am walking my dog, dressing in the morning, or putting on a mask, and I have a flashback to what it was like before Covid-19 changed all our lives. I use the word "flashback" here in a euphemistic way, but we need to consider the possibility that the flashbacks we might experience in the coming months may feel more uncomfortable, tinged with a feeling that we just lived through something traumatic.
Art Kleiner, writing for Medium, suggests that while we may have suffered loss, grief, or trauma before, the after-effects of the pandemic will be different in two ways: (1) We are not alone – our entire community has been affected and (2) The impact of what has occurred will not be felt all at once. It will be gradual. We will have to re-adjust to having closer and actual contact with our families and friends, not just a face occupying the Hollywood Squares of Zoom. We will have to re-configure our time-management – how much time does it take to get to work or school by car, train, or bus? What are meetings like when we can be finally in the same room together – will they be longer, shorter? Just as we had slowly adjusted to a more constricted, isolated way of life, we will now slowly re-emerge, as if from some strange hibernation.
The effects will be felt physically, behaviorally, emotionally and cognitively.  For some of us, sleep has been intermittently elusive during the pandemic. If you managed to regain a restful sleep pattern, you may find sleep becoming less predictable again once pandemic restrictions are lifted. Perhaps you can lose the "Covid 10" pounds you gained, or maybe the extra weight will stubbornly hang on because this slow adjustment is eased by comfort foods. Some have welcomed the Covid-inspired isolation due to a natural preference for solitude and may struggle when required to return to in-person employment or schooling. Others have struggled mightily with the lack of in-person connection and despite the desire to regain formal social activities, may experience some unexpected nervousness when being out and about. All of us have experienced some amount of anxiety, grief, or loss during Covid-19. We may be disappointed when these feelings linger. It is very hard to predict what we will experience when our world returns to something approaching normal, and that seeming normality feels topsy-turvy.
As our "new normal" evolves, Art Kleiner suggests that most of us will, for the most part, regain our former lives.  Others will creatively reinvent new paths forward. And still others will need time to recover from the extraordinary challenges of pandemic living.  As we resiliently move forward and find our footing again, JCFS Chicago continues to support the Chicago Jewish community and beyond during the pandemic and in the future.