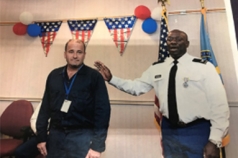 JCFS Chicago is proud to join the nonprofit community and celebrate National Disability Employment Awareness Month. Each week, we will be highlighting a client success story of someone who found meaningful employment through JVS Career & Employment. These are Tim and Andre's stories.
Our Contracted Employment Services (CES) perform custodial service to Army Reserve Centers throughout the Chicago area.  Recently, two CES clients were honored for their outstanding service to the Army Division buildings.
Tim works with a crew of three to maintain the USARC Center in Arlington Heights. One of Tim's responsibilities is to maintain the commander's office. Tim was asked to attend a retirement party for the outgoing base commander, at his request. It was at this event that Tim was honored for his service and was presented with the Commander's Coin for Excellence. Tim was deeply moved and humbled by this gesture, and carries the coin with him and proudly shows it off.
Andre holds down the fort at the USARC/Pulaski and Maintenance Shop in Chicago. Though only working part- time, Andre gives 100% to ensure the facility remains in tip-top shape to meet the rigorous standards of the military. While going about his normal routine, and without any fanfare, he was approached by the base commander. Andre was also presented with the Commander's Coin for Excellence, and in his usual quiet, unassuming approach, Andre was honored to accept this award.
Congratulations Tim and Andre!