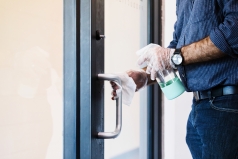 JCFS Chicago is proud to join the nonprofit community and celebrate National Disability Employment Awareness Month. Each week, we will be highlighting a client success story of someone who found meaningful employment through JVS Career & Employment. This is Robin's story.
COVID-19 brought a number of new challenges for the team members of the Contracted Employment Services department. The team had to quickly adapt to new cleaning and safety practices that would protect both them and the government workers who occupied the buildings. With information on the virus changing frequently, staff and clients needed to keep pace in an ever-changing environment.
During this transitional time, Robin was an exceptional leader. He has a significant disability and has worked for the JCFS Contracted Employment Services department at Madden Mental Health Center for nearly 20 years. Robin led the way for his co-workers during the COVID crisis, adopting new procedures and principles and acting as an example for his teammates. His attendance and punctuality were exemplary prior to and during the pandemic, and he rarely if ever took an unscheduled day off.  His supervisor reports that he is a valued worker who is always willing to help and cover absences when needed. His example of customer service, dedication to the team and work ethic speak volumes to his co-workers, JCFS staff members and the Madden employees.