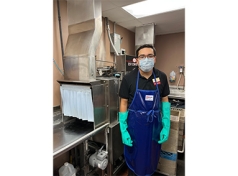 Nick was seeking his first job and independence at work, so he reached out to JCFS Chicago for help. By collaborating with employment specialists at the Duman Opportunity Center, Nick identified his interests, skills, and experience to find the best job suited for him.
Nick's previous experience was in his day program and at a hotel, where he worked in in the kitchen preparing deli trays. His goal was to work in a kitchen environment, so his employment specialist quickly identified The Moorings assisted living facilities as an excellent option near Nick's home.
From the beginning, the staff at the Moorings did everything they could to help Nick be successful as a dishwasher. On his first day, Nick felt a bit overwhelmed. He had a lot to learn and was a bit confused by it all. But the Moorings staff helped Nick become more comfortable in his position by customizing the job to his needs.
For example, Nick's supervisor reduced his hours and assigned Nick a mentor to help him learn his tasks. With this support, Nick has become independent and looks forward to coming to work. As he becomes more comfortable, the Moorings will increase his hours.
The Moorings was a committed partner in the development of this customized position for Nick. Their staff devoted themselves to Nick's success and worked with JCFS Chicago to find meaningful accommodations for Nick.
Thank you, Moorings staff!