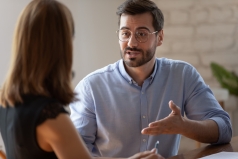 In the past month, there have been an influx of referrals to JCFS Chicago's Jewish Chaplaincy Services. Rabbi Dr. Joseph S. Ozarowski, who oversees the program and has been on the chaplaincy team since its inception, attributes this to two things. "As people come out of COVID, they realize they need support facing the struggles that come with re-entering the next normal," he said. "We've also been successful in educating the community about the need and benefits of specialized spiritual care."
The dedicated chaplains at JCFS Chicago include Rabbi Suzanne Griffel, Cantor Fortunee Belilos, Rabbi Paul Saiger and our newest, Russian-speaking addition, Rabbi Lazer Hershkovich. They are committed to uplifting community members. "We listen," Rabbi Joe said. "It's all about relationships." In honor of Mental Health Awareness Month, these success stories illustrate those relationships and the journey of mental health.
In this past year, Mr. H* lost his wife and had the COVID-19 virus. He was living with his two adult sons who struggled to support themselves when he turned to our chaplaincy services. Rabbi Suzanne Griffel connected with him regularly over the phone, zoom and visited when possible. Rabbi Joe consulted on the case, which is common for the chaplaincy program. "Everyone works together. We meet once a month to share and get ideas from each other," he said. The team pulled together different community resources including financial assistance to help Mr. H and his family find stability.
Mrs. K* moved to Chicago after her spouse passed away. Her chaplain connected her with one of the JCFS grief groups, but she was unable to meet with them in-person due to COVID restrictions. She expressed the need for more support. "We introduced her to other single people in her neighborhood," Rabbi Joe shared. "She started volunteering and is feeling more connected to her community."
Mrs. S* struggled with her mental health and wanted to strengthen her social skills. Her journey pivoted in the spring of last year, and she moved her therapist appointments and social groups online. The chaplaincy team connected her with phone partners to talk with and to work on her social skills. Recently, Mrs. S expressed a desire to come back to Judaism, and the team is helping her find local synagogues. The last time that Rabbi Joe spoke to Mrs. S, she had just received her second vaccine shot, and is looking forward to meeting people in person.
"I'm honored to lead this team," Rabbi Joe said. "The bottom line is, we don't fix things, but we journey with people." For more information or to request a chaplain visit, email Carol Brumer Gliksman or call 847.745.5404.
*Names changed to protect anonymity