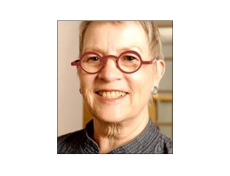 We are very saddened to share the news of the passing of former director of the Virginia Frank Child Development Center, Judith Bertacchi. Judy passed away on Friday, April 12.
Judy began her career at the agency as an Erikson Institute intern, moving into positions of assistant director and then as director in 1984. Judy Bertacchi's long career at JCFS was crucial to the success of our nationally recognized Virginia Frank Child Development Center, a pioneer in the field of family centered child development.
In her focus on the therapeutic nursery program, a continuum of preventative and therapeutic services for children, Judy emphasized building strong attachments with children and their families, helping them begin to understand their own reactions through empathic interactions and on-going relationship building. Her leadership and supervisory skills enhanced the skills of her clinical staff who remember her fondly as a leader with wonderful warmth, humor, and incredible insight. Judy's child development, clinical skills, and professional nurturance contributed greatly to clinicians' professional and personal growth. In so many ways, her legacy lives on in the work at Virginia Frank Child Development Center.