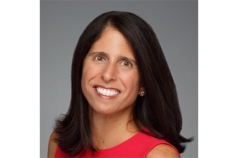 Born and raised in New York City, Jennifer Lucas has been a Chicago resident for about 20 years. Jennifer was first introduced to JCFS Chicago through the JVS Career & Employment Business Advisory Committee and was immediately impressed by the dedicated staff and volunteers as well as the breadth of services JCFS Chicago provides to clients.
Her first-hand experience observing a close family member struggle with mental health challenges fueled her passion to support and advance the mission of JCFS Chicago to help community members in need. After almost six years on the JCFS Chicago Board of Directors, Jennifer began her tenure as Board Chair on September 14.
Jennifer looks forward to continuing to encourage board engagement at the agency. Board members take an active role by joining committees and supporting the organization in specific ways that align with their skills and interests. With her own rewarding experience as a guide, she plans to foster these opportunities for engagement during her tenure. 
Jennifer is excited to promote JCFS Chicago's new brand identity and strengthen connections to JCFS Chicago donors, community members, and other key stakeholders. With the strategic plan 2.0 as her guidepost, Jennifer wants to lead the board to not only achieve the goals outlined in the plan, but also to be dynamic and forward thinking. Jennifer recognizes that the needs of the community are always changing and wants JCFS Chicago to be flexible, forward thinking and responsive so that the organization can effectively provide resources to those that rely on its services. Jennifer's goals also include ensuring that JCFS Chicago remains in a strong financial position and continues to grow and thrive.
Jen currently lives in Lincoln Park along with her husband, Andy, their two teenage daughters, and their 7-year-old Border Collie / Beagle rescue.