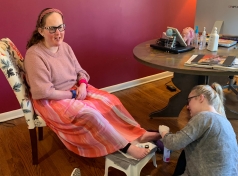 While some local providers have temporarily closed their group living homes, JCFS Chicago is committed to supporting individuals with intellectual/ developmental disabilities in their homes. Our homes are fully staffed and focused on the well-being of the residents, keeping them safe and healthy as we all shelter in place.
Since many day programs have closed, our residential supports staff are building meaningful daily schedules to keep residents busy. Neighborhood walks and in-home yoga are keeping everyone physically active. Additional time at home has given residents time to work on their cooking skills and meal planning and other life skills. Socializing has moved online, but that hasn't lessened the frequency of people "getting together" on a daily basis. Online recreation classes, movie nights, games, fashion shows, and book groups are filling their calendars. Video chat has helped people stay connected with their family and friends.
To help decrease anxiety and support the mental health of our residents, we are also providing weekly individual teletherapy, e-health screenings as needed, addressing COVID-19 questions using visual supports, time in nature, choice and self-determination when possible, and the practice of relaxation techniques.
Our residents have also received an outpouring of support from the JCFS community. Before the stay-at-home order went into effect, a local bowling alley took extra measures for one on of our residents to still enjoy his weekly afternoon of bowling. When the call went out for additional thermometers needed to safely monitor residents, JCFS supporter Betsy Gidwitz responded with a generous donation of thermometers to help meet our needs. The kindness continued to spread with a meal donation from Jane Strauss, a JCFS board member, along with a weekly virtual social hour for residents planned by the JCFS Associates Board.
Over the last month as we have all adjusted to new ways of staying connected, our residents have found creative ways to navigate these uncertain times by "making lemonade out of lemons," until it is safe to come together again.