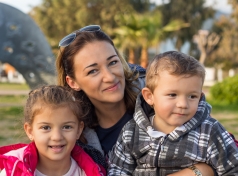 Susan, a single mom, works seven days a week, but still does not make enough money to support her two children. Before the pandemic, Susan worked 40 hours a week in a café, but the business closed because of the COVID restrictions. Now she works in a factory making picture frames and has a second job on the weekends. She has subsidized childcare, but it is difficult for her to cover this expense and the children's father is not able to provide financial support.
Living paycheck to paycheck, Susan was referred to JCFS Chicago and met with a Financial Assistant to see where we could help.
Knowing that she needed a better paying job, Susan was working on her GED but she was unable to cover the outstanding tuition. Faced with mounting expenses, the ongoing stress of her situation caused Susan to start losing her hair and she now owed money for medical treatment.
Through our Financial Assistance Program, JCFS was able to provide Susan with two months of rent, pay off the remainder of her GED classes, cover her children's school transportation fees, and provide two months of food support.
The pandemic has impacted all of our lives, and for some people this has meant job loss and an unexpected financial hardship. With support from JUF, our Financial Assistance Counseling program has been able to provide emergency funds to those that need it. After hearing about the assistance JCFS would provide, Susan was overwhelmed with gratitude and wanted to start making payments on what she thought was a loan. Her Financial Assistant explained that she was not expected to repay the money, "because we are to here to help make a difference in people's lives."
*Name changed to protect anonymity