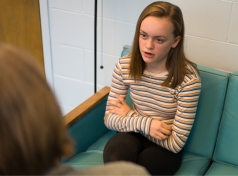 Each person's background and story is unique
Emily came to JCFS after months of conflict and unhappiness. Through counseling she was able to identify unhealthy patterns and gain the strength to take control of her life.
A single mother of two daughters, Rachel felt alone and overwhelmed. She turned to her synagogue for help. With the personalized support of our community partnership initiative, JCFS staff and synagogue clergy came together to hear her story, brainstorm next steps, and offer her much-needed resources immediately.
 HIAS Immigration and Citizenship assisted Peter through the process of becoming a naturalized United States citizen. "When I was sworn in as a U.S. citizen, it was the proudest day of my life. I am grateful for the help I received from HIAS, and the support they gave me to start a new life in this country."
For people like Emily, Rachel and Peter your gift can make a difference in their lives. Together we can double the impact in our community, thanks to a generous commitment from an anonymous donor, all new and increased gifts will be matched. If you've supported us in the past, please consider increasing your gift.