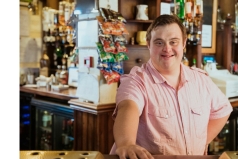 With the help of JVS Career & Employment, Louis has been working at MOD Pizza since October of last year. His job coach reports that Louis has become a pizza box folding master, and after working together Louis is able to independently clock in and out, bus tables, check in with customers and navigate the kitchen safely.
He was so consistent and capable that his manager asked him to work during the busiest parts of the week. He became an integral part of the MOD squad, developing friendships with co-workers, checking in on them when they missed a shift or changed their schedule, and asking what they get up to over the weekend, always ready to laugh and share.
When Louis's group home locked down due to COVID restrictions, he was not able to report to work from early March until mid-June. Since he does not communicate well over phone or text, it was difficult for his job coach to help him prepare for a return to work, and a challenge to reassure his home that MOD Pizza and his job coach would prioritize Louis's health alongside his job development.
Despite these challenges, Louis jumped right back in upon returning to MOD, and has been adaptable and positive. With the encouragement of his manager and the use of simple adaptations developed by his job coach, he is able to manage by himself. He still folds boxes and busses tables, on top of safely and thoroughly cleaning all the high touch points every fifteen minutes and learning to wash dishes after the lunch rush. He consistently washes his hands and changes his gloves when switching tasks. He always comes to work with his face mask, and when it droops to the tip of his nose, after consistent reminders and visual strategies set in place by his job coach, he always makes sure he adjusts his mask appropriately.
Louis celebrated his birthday recently at MOD, bringing cupcakes for the MOD squad and ordering his favorite super spicy pizza. The support of his team and job coach helped redefine what was possible for Louis and ensured that people with disabilities are not left out of our new normal.