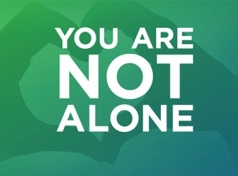 by Bracha Jakofsky, MSW, JCFS Mental Health Educator
During Mental Health Awareness Month, we want to call attention to the recently published Surgeon General Advisory report on the epidemic of loneliness and isolation.
What is loneliness and why is it such a big deal?
Loneliness refers to the experience of perceived isolation and lack of inadequate social connections. It is not about how much social interaction and connections you have, but the amount you feel you need and want. While isolation can present itself in various forms, physical isolation is a strong factor in contributing to the feelings of loneliness. Persistent loneliness is extremely painful and can affect our physical and mental health in many ways.
What can we do about it?
Know you are not alone. Recognize and acknowledge that loneliness is real and is felt by many people.

Be kind to yourself. Check in and connect with yourself, without expectation or judgement.

Cultivate a culture of connection. Make an effort to reach out to others in your neighborhood, synagogue, or community. Even a quick text can go a long way.

Increase your social network by collaborating on a project, giving to others, or finding your personal passion.

Practice gratitude to shift your mindset and build stronger relationships. Positive affirmations, expressing thanks to others, and appreciating the moment can improve mental health and wellbeing.

Listen to the song

"I'm Not Alone"

 (Aly Halpert & Anat Hochberg) as a reminder that we are inherently connected even when we can't feel it.
JCFS is here to support you. Call us at 855.275.5237 to learn more about how we can help.