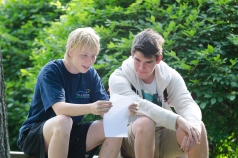 As camp begins to feel more and more like a reality, it is normal for your child to start to feel anxious about leaving home. Even campers who have been away before may still feel nervous. Our Camp Firefly staff has put together some tips that can help your child get ready for the summer.
 10 Tips to Help Prepare Your Child for Summer Camp
Let your child feel a sense of ownership over the experience. Involve him in picking out the clothes he will bring, a favorite stuffed animal or toy, and maybe even a new pair of shoes.
Help your child get excited about camp: watch the Firefly video, read the newsletter, and look at pictures on the website.
Avoid focusing on what makes children anxious. Instead of asking leading questions like, "Are you nervous about horseback riding?" ask open-ended questions like, "How are you feeling about the horses?"
Don't trivialize her concerns or offer glib reassurances. "There's nothing to worry about!" or "Everyone loves camp!" may discourage your child. Instead, show that you have empathy and acknowledge her concerns. Maybe even share a time that you left home and felt nervous, and what you did to conquer your fears.
Focus on concrete details in conversations leading up to and during summer camp. Avoid abstract issues like what it's like to be away from home in favor of games in the pool, meals in the dining hall, or campfire rituals.
Reflect on your own formative experiences away from home and share positive aspects of them with your child. Show that you are willing to talk about the new things he'll be doing, whether it's eating new food, sleeping in a bunk bed, getting along with cabin-mates, or coexisting with insects.
Go through "rehearsals." A shorter-term sleepover or a night at someone else's home will make it easier for your child to be away from home.
Don't linger at drop-off. Keep the goodbyes short, as delaying just causes more mixed feelings (for both the camper and the family)
Make communication easy, even while far away: Pack letters and date them so that counselors can provide your child with a piece of mail from loved ones every day. Provide stationery and stamps so your child can write to you.
Provide an opportunity for your child to see camp before they sleep at camp: Open houses and camp tours are an excellent way to minimize fears!