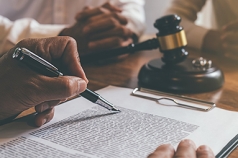 At JCFS Chicago, we work to make our community inclusive and accessible for people of all ages and abilities. We are committed to supporting people with disabilities through social and recreational opportunities, special education and employment. For those that need legal assistance, we have compiled a list of resources available in the Chicago area.
The new special education law firm, Hartlieb & Horste, LLC, assists parents of children with disabilities in obtaining necessary educational services for their children. Services include assisting parents in requesting and obtaining evaluations for their child, negotiating the special education eligibility process, crafting an effective IEP or 504 Plan and navigating the mediation process. Call 847.485.9232 for more information and a free consultation.
This independent agency is committed to protecting the civil and human rights of people with disabilities. They handle legal cases dealing with abuse investigations, access barriers, community integration, employment discrimination, healthcare and access to assistive technology, housing, self-determination and personal decision making, special education, and transportation. To get legal help, complete their online intake form or call 800.537.2632.
Legal Aid Chicago provides free legal services to Cook County residents who are living in poverty. They focus on accessing and protecting benefits for their client's basic human needs, including medical assistance, rights of long-term care residents and employment rights. To find out if you or a family member are eligible for legal aid, click here or call 312.341.1070