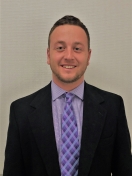 Jordan Brown is one of the newest members of JCFS Chicago's Associates Board, a dedicated and enthusiastic group of young professionals that are passionate about strengthening the Chicagoland community. Jordan's parents were very philanthropic and involved in their local synagogue, and he grew up with Jewish values learning the importance of giving back and building community in Boca Raton, Florida where he grew up. With a drive to help others, Jordan both organized and participated in a variety of fundraising and volunteer opportunities before reaching college. He and a friend founded a local Thanksgiving football fundraiser, raising money for several charities serving children with disabilities. He was also involved with NFTY: The Reform Jewish Youth Movement and served as the regional membership vice-president, empowering and motivating his peers around community building and social action.   
With a background rooted in philanthropy and Jewish values, when he moved to Chicago after graduating from the University of Illinois, Jordan knew he wanted to continue to give back.  After settling into his role at PNC Bank, he became involved with several programs at JUF, including the Young Leadership Division, which was a great way to meet other like-minded young people in the city. Eventually, one of his friends, Michael Neff, who is also on the Associates Board, introduced Jordan to JCFS Chicago. Shortly after joining, Jordan helped to plan A Morning of Wellness & Yoga, the Board's third annual event, which raised nearly $5,000 in support of JCFS Chicago's COVID-19 Relief Fund. The event was a perfect opportunity for Jordan to let his family and friends know about the importance of JCFS's work. In the future, Jordan is looking forward to finding more volunteer opportunities through the Board, learning as much as possible about JCFS, and using his position as an outlet to educate others.
Jordan believes it's especially important for people his age to find a few charities they are passionate about and to support those organizations as they move and grow their careers. Jordan feels that a position on the Associate's Board encourages the next generation to become even more successful and impactful philanthropists.