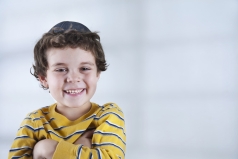 Jonah is a twelve-year old Orthodox Jewish boy living in Chicago. When his parents noticed that he was struggling at his private Jewish Day school both academically and socially, they turned to JCFS Chicago for help in March 2020.
When COVID restrictions tightened, his testing was divided between telehealth and in-person testing. At first, his testing focused on his issues with language-based learning. His therapists wanted to understand if his academic challenges were due to English being his second language or if he had an underlying learning disorder.
To get a fuller picture, his parents completed questionnaires and the JCFS therapists interviewed his Hebrew studies teacher to see if Jonah demonstrated the same difficulties in Hebrew, his native language. Although a school observation was not possible due to COVID-19, his teacher shared invaluable information indicating that he struggled greatly with his Hebrew studies. In addition, she noted that he often would pretend to follow along in class or pretend to be doing work, even though he was "completely lost." He did not seek support from his teacher because his anxiety prevented him from letting others know how much he was struggling. His teacher shared that he was also quiet around his peers, often opting out of group projects, likely because he did not understand what they were working on. 
The results of a comprehensive battery of tests confirmed that Jonah had specific learning disorders in reading, writing and math, and that his difficulties were beyond what could be attributed to English being his second language. His therapists recommended academic supports and accommodations at his school, occupational therapy to improve his writing skills and a therapy to help him better manage his anxiety and learn self-advocacy skills.   
The JCFS team's quick and flexible transition to telehealth meant that the client benefited from the expertise of people across the agency. While Jonah was completing his assessment, a speech-language therapist and her supervisor were able to watch remotely in real time and give recommendations, and after the assessment, the team came together to share impressions and insights. The collaboration between JCFS programs ensured that Jonah received the best services possible, and through a team effort they were able to understand Jonah's needs and help maximize his potential.