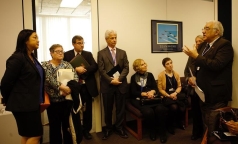 Jewish Child & Family Services (JCFS) was honored to be part of the delegation of more than 40 Chicago and Springfield Jewish community leaders and professionals who convened at the Illinois State Capital April 11-12, 2018 for the Jewish United Fund of Metropolitan Chicago's (JUF) annual State Advocacy Mission.
"The Government Affairs mission to Springfield is an opportunity for JCFS to stand together with JUF and our sister agencies and advocate, in one strong voice, for our entire community," said Amy Rubin, Senior Director, JCFS Community Services. 
In addition to representatives from JUF and JCFS, the delegation included representatives from CJE SeniorLife, Sinai Health System, EZRA MSC and JVS Chicago, who met with state leaders to be briefed on new mental health legislation and efforts to reduce gun violence.
"This year our message focused on the need to protect the partnership between our agencies and state government and on our steadfast commitment promoting community safety" explained David Golder, Chair of the JUF Government Affairs Committee and JCFS's 2018 Striking Event honoree.