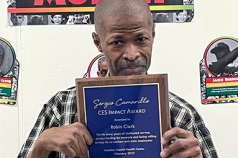 Sergio Camarillo was an exceptional person, not only at JCFS but with everyone he met throughout his life. Thus, it was with much sadness to everyone who knew him when he passed away from Covid-19 last year. The Sergio Camarillo Impact Award was created to honor his memory and legacy.  
Sergio worked for JVS/JCFS for almost seventeen years as a Vocational Trainer at the Madden Mental Health Center in Hines, Illinois, and Parkhurst Army Reserve Center in Darien. As a Vocational Trainer he provided instruction, guidance, and training to numerous disabled workers, many of whom had never been gainfully employed before.  
Sergio was a devoted team member of Contracted Employment Services (CES) who consistently wore a smile and always had a positive, upbeat attitude. He willingly filled in at other sites as needed (often with little notice) and often worked weekends and evenings to assist with special projects. He performed personal acts of kindness for his colleagues and was a good friend to many.  
He understood the importance of work in our client's lives and did everything possible to help them be successful. He had a knack for developing creative solutions to the barriers many of them faced. Oftentimes his clients moved on from his sites to one with more responsibility – or to competitive employment – embodying our mission of helping people achieve their highest individual potential. 
With his passing, and to honor Sergio, CES thought it would be appropriate to create an award for clients that best embodied who Sergio was in spirit, action, and deeds. After announcing the Sergio Camarillo Impact Award, Sergio's colleagues began nominating potential candidates.  
There were a wide variety of nominations of well-deserving clients, but when the votes were counted, the inaugural Sergio Camarillo Impact Award went to Robin Clark. For more than 20 years, he was always Sergio's right hand man at the Madden Mental Health Facility, and in a lot of ways served as a team lead at that facility. Robin also helped Sergio with some of his project work on weekends at other locations. Most importantly, Robin was the glue that really held everything together after Sergio's passing. It was several months before a replacement supervisor was found, but Robin - thanks to Sergio's mentorship - made it an easy transition.  
"Sergio Camarillo was a dedicated employee, friend, father, and husband who will be deeply missed by all." said Eric Kramp, Director of Contracted Employment Service at Career & Employment Services (CES). "The loss of Sergio is still deeply felt among the CES team and will be felt some time to come, but through the Sergio Camarillo Impact Award his legacy will live on."