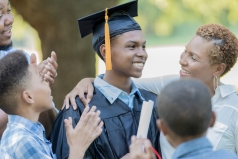 By Marc Bermann, JCFS Foster Care Recruiter/Trainer
Without a doubt, graduating high school is a significant accomplishment for many youth with behavioral, emotional or intellectual challenges. There have been so many barriers and roadblocks that needed to be overcome, much of which wouldn't have happened without the care, concern and support of foster families. But that guidance cannot stop after graduation. It is during this transition time, that many youth "fall through the cracks" of unemployment, poor peer choices and lack of structure in their lives. With this in mind, here are some helpful hints to further stabilize the direction your foster youth may travel as he/she encounters more of life's "challenges":
Encourage your high school graduate to join the high school alumni association to start networking with other graduates as they all begin their life's journey into adulthood.
Meet with your child's high school counselor before graduation to determine the best options for continuing education, such as community college; vocational trades programs; and union apprenticeships.
Visit community colleges in your area to determine the best and most appropriate courses that can improve your high school graduate's study skills.
Help your high school graduate practice effective interviewing skills and asking for help. It is not a sign of weakness to ask for what one needs. Rather, it is a sign of maturity and self-awareness.
Take advantage of community and personal resources to help your high school graduate connect

 

and network with adults who can guide and mentor him/her into making good job development decisions.
Assist your graduate with on-line research on job websites such as "Indeed" and "Monster Jobs". Help him/her complete on-line job applications.
Help him/her research resume-building classes at the local library.
Make sure your graduate has a current medical physical and is up-to-date on his/her medication regimen.
Encourage your graduate to register to vote and visit your aldermanic and state representative's offices to introduce themselves. Politicians like the opportunity to reach out to the community. It's good publicity at re-election time.
Remind your graduate that high school is not the end of the line. Continuing education and job development go hand-in-hand in creating a roadmap for success, and your job is to help your child navigate through the rough waters.
For information about becoming a JCFS Foster Parent, contact Marc Bermann or 312.673.2755.