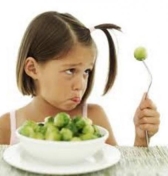 by Jennie Marble, M.A., CCC-SLP, Assistant Director of Integrated Pediatric Therapies at JCFS Chicago
The holidays are often a time to gather with friends and family to share a special meal, but for children with eating challenges a change in routine and environment, along with the sights and smells of new foods can be overwhelming.  
Preparation for the holidays is helpful for any child, but is particularly important for children with feeding and swallowing disorders. Talking about what to expect during the family visit, and looking at pictures of food and exploring scents beforehand can go a long way.
Environment
There might be new people around. Talk about family and friends who will be there ahead of time.  Let your child know the schedule for the day and what to do or where to go if they need a break.  Assure your child has the proper seating for meal time.
Smell
Oh the smell of holiday dinners! It is usually a memorable experience, but can be completely overwhelming for a little one who isn't familiar with the scents. Take out some of the spices in advance and do some smell play. Waft the jars or participate in drawing pictures in the poured out spices.
Sight
Pull out the recipe book (or good old internet) and show your child pictures of the foods that may be less familiar. Keep in mind not to overwhelm the plate on the big day. Small portions and appropriate size presentations may go a long way in helping a child participate. Consider a buffet in the kitchen instead of family style at the table if you think so much food on the table may be overwhelming.
Eating
The holidays are often about sharing the food we love. This may be traditional recipes handed down from generations or new ones that your kids love.  There are many traditional dishes that naturally lend themselves to being easy to chew--ground turkey or fish may be good, easier to chew, alternatives.  If your child has a selective diet pick a few dishes to add to the spread that they love and that can be passed among friends and family.  Exposing kids to the new foods is always good preparation.
After all the preparations are done, remember, it's a time to be thankful, to enjoy each other's company and to count our blessings. The food is a bonus!
For more tips on how to prepare your child for the holidays, contact Integrated Pediatric Therapies or 847.412.4379
Connect to all of our programs and services for children and families! 
Call 855.275.5237, email ask@jcfs.org or visit us online at jcfs.org