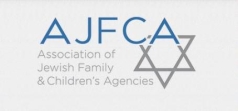 By Amy Rubin, Senior Director of Community Services
In August JCFS Chicago welcomed 16 domestic violence professionals to its Skokie office for the first Association of Jewish Family & Children Agencies (AJFCA) Domestic Violence Professionals Fly-In. The participants came from all across the country, including Los Angeles, Cincinnati, West Palm Beach, Boston, Cleveland, Philadelphia, New Jersey, Washington D.C. and Detroit. As this passionate group of colleagues energetically shared ideas and described the breadth of programming that is being accomplished, I couldn't help but reflect on how much has changed.
I can remember a time when domestic violence was only spoken about in hushed tones behind closed doors. In the 1970s, the movement to end domestic violence was born when women courageously began to share their stories in laundromats, on park benches and around kitchen tables. Their stories inspired an emerging grassroots effort that sparked a long process to raise public awareness and understanding. Our collective consciousness was elevated a little bit more when in 1984 we watched Farrah Fawcett, the most famous and glamorous of Charlie's Angels, portray Francine Hughes in the movie "The Burning Bed." There it was right on the television screens in our living rooms—a battered woman who, after suffering years of physical abuse at the hands of her brutal husband, felt that the only way she could protect herself and her children was to kill him by setting him on fire as he slept.  
In 1994, heightened awareness led to transformative federal legislation—the Violence Against Women Act provided for education, research, treatment of domestic and sex-crime victims and creation of rape crisis centers and shelters.
I also remember when the Jewish community would say, "Not us—doesn't happen here." That perception has changed. Because of the pioneering efforts of JCARES, SHALVA, Response, National Council of Jewish Women and so many other organizations and programs, our Chicagoland Jewish community is truly and wholly committed to ensuring that every individual, home and family is safe and peaceful.  
JCFS Chicago was proud to host the AJFCA fly-in and to have the opportunity to share some of our innovative programming. The JCARES coalition has become a catalyst for new and strengthened partnerships and collaborative action, bringing together representation from the diverse Jewish and cross-discipline secular communities. The JCARES Professional Training Institute offers education to professionals, advocates and lay leaders so they have the knowledge needed to respond effectively and appropriately to abuse victims and their families. The Partnership for Safer Communities initiative promotes health and safety in Jewish day schools, synagogues, camps and other settings through education and policy review.  
Please contact me if you would like to learn more about any of these programs (847.745.5432). Shanah Tovah from all of us at JCFS Jewish Community Services and warm wishes for a sweet, peaceful New Year!