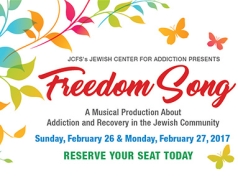 by Dr. Beth Fishman, PhD Manager,  Addiction Services at JCFS Chicago
Freedom Song is an original musical production created and performed by individuals who are current or past residents of Beit T'Shuvah, the interdenominational Jewish treatment program in Los Angeles.  Freedom Song showcases a family celebrating a Passover Seder while also confronting the impact of addiction on the entire gathering.  
Interspersed are scenes from a 12-Step meeting, giving an inside look at the process of recovery.  Following the performance, audience members are encouraged to ask questions of the cast, who courageously and honestly share their own stories of addiction and recovery.
Freedom Song is an examination of the impact of addiction on a Jewish family and a celebration of the strength of the family to accept challenges and overcome shame and fear.  The performance also provides-
An opportunity for the Jewish community to confront addiction in our midst
A chance to shine the light of openness and honesty on a hidden, often stigmatized topic
A time to ask real questions and get real answers from cast members who have journeyed through addiction to recovery
A chance for every one of us who cares about addiction recovery in the Jewish community to come out, stand up and support those among us who struggle 
In the words of Rabbi Mark Borovitz, co-founder of Beit Tshuvah, Freedom Song "highlights the historic universality of the struggle to free oneself from external oppression and internal bondage."
Thanks to the generosity of the Jewish Federation of Metropolitan Chicago's Breakthrough Fund and Fund for Innovation in Health, the addiction services at JCFS Chicago is proud to bring Freedom Song back to Chicago for two performances.  
In 2015, addiction services brought Freedom Song to the Chicago area for the first time, and witnessed an abundance of interest in and concern for addiction in our community.  As a result, we have seen increased efforts in these areas: youth drug prevention, community members reaching out for help, the formation of community groups and foundations, professionals being trained in the latest practices and building community partnerships.  However,  there is so much more to do, as overdose rates continue to rise and the myth that Jews are somehow immune to addiction persists. Lend your presence and your voice to the shared challenge the Jewish community faces, for who among us has not been touched by addiction in some form?  
We hope you will attend a Freedom Song performance…to be moved, educated, empowered, and to be part of the solution to addiction in our community.
Admission is free and open to the public.
Special Thanks To
Partnering Synagogues
Anshe Emet Synagogue
Temple Jeremiah
Supporting Organizations
Anshe Sholom B'nai Israel
Anshe Tikvah
Chicago Board of Rabbis
Congregation Etz Chaim
Emanuel Congregation
Mishkan Chicago
North Shore Congregation Israel
Oak Park Temple
Response Center
Solomon Schechter Day School
Temple Beth Israel
Temple Sholom of Chicago
West Suburban Temple Har Zion