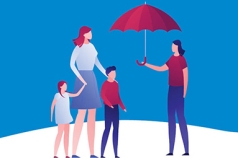 In partnership with the Jewish United Fund (JUF), JCFS Chicago's Financial Assistance Program has issued $2.2 million to people in the community since May 2020. Clients typically receive food assistance and help paying utility bills and several months of rent. However, certain cases require JCFS' dedicated caseworkers to go above and beyond simply providing financial relief and look at additional supports that could help people get to a better place in life.  
A few months ago, we received a referral about a special case in which a young mother, Juanita*. and her two little girls were fleeing an abusive home in Mexico. Her caseworker, Marizela, worked tirelessly to help this woman find trusted resources and security during a grim time of transition.  
Juanita arrived in the United States with help from HIAS National before making her way to Chicago. She fled Mexico because her husband had been sexually abusive to her children, and she was now seeking asylum in the United States. As a condition of her entry, she had to have a sponsor, so she sought out her aunt and her uncle and stayed with them in Chicago.  
After a few weeks, Marizela discovered that Juanita's relatives were taking the food assistance and donations she had received and keeping them for themselves. On top of that, there were situations when the relatives became physically violent with Juanita if she confronted them.  
As Marizela spoke to Juanita, she realized that JCFS was her only option for help and this woman desperately needed advocacy on top of financial support. Marizela knew that this was a special case and one where we would be able to assist.  
Marizela connected Juanita with an immigration lawyer who explained her legal status and the necessary next steps and parameters needed to grant her asylum.  
Through our Financial Assistance program, JCFS helped Juanita rent a hotel room, and find a domestic violence shelter so that she could secure longer term housing, support, and counseling. JCFS also provided additional funds for food and transportation so that Juanita could focus on the health and safety of her and her children.  
With Marizela on her side and JCFS services lined up, Juanita obtained the space and safety she needed to transition to a stable life. She finally had the time and support to evaluate her options so she could determine the best path forward for her and her children.  
"JCFS is not a typical financial assistance program. Each case is treated with dignity and respect and offered trauma-informed care throughout the process. JCFS is proud to partner with those who have encountered challenging situations in their life and support and empower them to determine their best path forward," said Kathleen Gerhold, Assistant Vice President, Programs and Operations.  
All the available funds allocated for the pandemic emergency response financial assistance program have been distributed. In the spring of 2022, we will begin to collaborate with people looking for financial counseling services, which include money management education and resources in support of sustainability and stability. For more information call 855.275.5237.