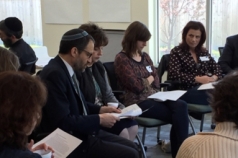 By Rabbi David Rosenberg, Orthodox Community Liaison
In the late 1990s, the Orthodox Jewish community in West Rogers Park was growing significantly. Jewish Family and Community Service, which later became part of JCFS Chicago (JCFS), had an office on Devon Avenue in the heart of that community, but Orthodox individuals and families made up a relatively small proportion of the client base. Some agency colleagues suspected that the local Jewish community might be unaware of the availability of services. They began to engage local rabbis and Jewish day school principals. 
JCFS professionals invited colleagues from local Jewish agencies and the Jewish Federation of Metropolitan Chicago to a meeting to discuss ways to reach out to the Orthodox community. Professionals from ten agencies, including the Associated Talmud Torahs (representing Orthodox Jewish schools) agreed to form a permanent group, which they called "Federation Inter-Agency Professionals Serving the Orthodox Community."   
A local rabbi-educator proposed that the group introduce agency staff to Orthodox schools and institutions. The proposal was embraced and JCFS provided a small budget for an all-day in-service. Orthodox institutions recognized that agency professionals wanted to provide appropriate services to their constituents. Professionals from a range of agencies learned about the lived experience of Orthodox Jewish people throughout the lifespan, about their traditions and community institutions, and about challenges they faced. These professionals became more culturally competent.    
Over time, the "Federation Inter-Agency Professionals" group was renamed the Orthodox Network. Throughout it has been hosted by JCFS Chicago. The Network describes itself as a collaboration of social service providers in Jewish agencies who work in partnership to improve services to Chicagoland's Orthodox communities. It accomplishes this by offering professional education, identifying emerging issues, and fostering networking and the sharing of resources. 
Since 1996, the Orthodox Network has presented the day-long training many times.  The Network's bi-monthly meetings, which moved successfully to Zoom in 2020, have helped hundreds of colleagues from many agencies to form professional relationships and learn about services, best practices, and community needs. In 2013, the Network introduced a new initiative: Awareness & Education Forums. The Network has presented fourteen forums, each featuring a panel of professionals who share their expertise in areas such as employment, divorce, impacts of technology, substance abuse, and sexuality and gender identity. Forum panels feature clinicians, agency professionals, and local rabbis with expertise on the topic. Cultural Competency CEUs are available for social workers, psychologists, and counselors. The Network's fifteenth forum, "Responding to Domestic Abuse and the Orthodox Jewish Communities," will be presented during Domestic Violence Awareness Month this coming October.
The challenge of better serving Orthodox clients felt by agency leaders in the 1990s is felt around North America now:  Orthodox Jewish communities in numerous cities are growing (see https://www.pewforum.org/2021/05/11/jewish-americans-in-2020/). At the first conference of the Network of Jewish Human Service Agencies (NJHSA) in 2018 and in subsequent NJHSA webinars and working group discussions, JCFS colleagues have shared wisdom gained over decades of collaboration at the Orthodox Network. What we have learned helps partner agencies far and wide. 
Serving the communities who turn to us for help requires learning and commitment. JCFS colleagues, together with other members of the Orthodox Network going back to a single meeting a quarter century ago, continue the work of engaging the Orthodox Jewish communities and addressing their needs. 
The Orthodox Network's Awareness & Education Forum, "Responding to Domestic Abuse and the Orthodox Jewish Communities," will take place via Zoom on Tuesday, October 12 from 9:00 to 11:00 am CT (10:00 am – Noon ET).  Communal professionals and leaders are invited to register online. For more information about this event or about the Orthodox Network, please contact Rabbi David Rosenberg, Orthodox Community Liaison, at 773.467.3926.