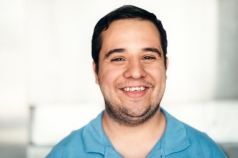 Nanette Cohen and Jamie Sandberg, Duman Opportunity Center
David is a college student who was referred to JCFS Chicago for job placement services. He told his Employment Specialist that he was excited to work with JCFS because in the past people had not considered him for employment due to his disability.
According to a 2020 Bureau of Labor Statistics report, the unemployment rate for individuals with disabilities ages 16-19 was at 26.7%, and 21.1% for those ages 20-24. These figures show that people with disabilities continue to face significant structural barriers to employment as the rates for individuals without disabilities are at 17.7% and 13.5% respectively.
JCFS Youth Employment Services through the Duman Opportunity Center assists in counteracting these statistics. Youth with disabilities, ages 16-24 residing in Cook and Lake Counties, meeting eligibility and suitability requirements, are afforded the opportunity to work with a team of employment experts in achieving their employment goals. JCFS customizes services to work with the youth, family and other supporting individuals to assist the youth in becoming financial and social contributing members of their community. Through a complete menu of job searching, placement and retention services, youth actively participate in determining viable employment options to create a career path to secure long-term employment. Duman staff assist with every step along the way and continue support clients up to a year after employment is obtained.
Back to our story about David…
The JCFS employment specialist met with David several times and together they determined that a subsidized employment opportunity would be of a benefit to him. After coordinating and planning, in January 2019 David began to work as an administrative assistant which highlighted his skills and strengths. However, due to the pandemic he was laid off in June 2020.
David contacted Duman again in July 2020 seeking further employment services. His employment specialist assisted him with completing applications and interview preparation. His employment specialist also conducted hours of job search activity to find him the right match. Through networking opportunities, David's employment team discovered a youth organization seeking an intern. This position would allow David to utilize his skills and talents to the employer's benefit. The Duman program manager and employment specialist followed up with the organization and presented David to them. David started his second subsidized employment opportunity in September 2020.
David is currently facilitating sessions with participants ages 5-21 with disabilities. Because of the pandemic he is presenting using Zoom which utilizes his computer talents. He has launched a performance group which promotes individual's confidence and self-esteem through art and physical movement activities by learning about musical theatre and focusing on the arts. In addition, David interviews, organizes, and leads volunteers training sessions. In his short time working there he also has also launched a podcast interviewing their participants, highlighting their contributions to their communities.
David's supervisor was so impressed with his job performance that she offered him a permanent part time position beginning this June. The Duman employment specialist and team will remain in contact with David and his employer for one year to ensure he continues on this great path.
For more information about our youth services, please email us or call 855.275.5237.