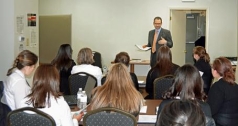 Rabbi David Rosenberg, the JCFS Chicago Liaison with the Orthodox Jewish community, presented a cultural sensitivity training session on February 10 to educate the employees of Mariano's™ new kosher store about the Orthodox Jewish community.
Rabbi Rosenberg's presentation closely followed a job fair conducted for the same store by JVS Career & Employment, which is allied with JCFS Chicago. JVS Career & Employment had awarded Mariano's™ their 2014 Employer of the Year Award and has worked closely with the grocery chain to help place employees with disabilities in Mariano's™ stores.
The presentation took place with the assistance of the Orthodox Network, a collaboration of social service providers in Jewish agencies who work in partnership to improve services to the Orthodox community in metropolitan Chicago.
Orthodox Judaism by the Numbers
The rabbi began his talk with some interesting statistics. Orthodox Jews make up about 10 percent of the US Jewish population of 5.3 million. Chicago's Jewish population of 291, 800 lives mostly in the northern suburbs, though about 70,000 Jews live in the city.
"The Orthodox community in Chicago is centered in West Rogers Park, nearby Skokie and Northbrook," Rabbi Rosenberg said. "Orthodox Jews tend to marry young and have large families; the average is 4.1 children. Community values are different from the American Dream variety; there is less emphasis on the individual pursuing his dreams and self-actualizing. Family is what is important in the Orthodox community and rather than chasing your dream, the emphasis is more on taking your proper place in the community."
Rabbi Rosenberg explained that the Orthodox community tends to be economically diverse, because people need to live within walking distance of their synagogue, since driving on Shabbos (the Sabbath) is prohibited. People of widely varying incomes live close together, "which means that more bottles of $50 kosher wine might leave the store than you'd expect in Rogers Park." Set to open after Passover, the kosher Mariano's™ will be near the corner of Touhy and McCormick and thus convenient to West Rogers Park, Skokie and Lincolnwood.
The three pillars of the Orthodox community, Rabbi Rosenberg said, are God, Torah and the Jewish people. Orthodox Jews are loyal to tradition and try to keep the 613 mitzvot or Commandments in the Torah, the five books of Moses that are the foundation of the Hebrew Bible.
Rabbi Rosenberg explained the different ways in which the Orthodox Jewish community organizes its time. Days start at sunset. The Saturday Sabbath begins shortly before sunset on Friday evening and lasts 25 hours, until nightfall Saturday night. The calendar used to determine Jewish holidays is "a hybrid lunar/solar calendar," he said, with leap months inserted some years to keep seasonal holidays within the proper season. The rabbi added that these unique organizations of time can make a big difference in when Orthodox Jews can shop for groceries.
Food, Glorious Food
Much of what Rabbi Rosenberg discussed had to do with food, of course. He explained the injunction in the Torah against mixing meat and dairy, "which is repeated three times verbatim, which is very unusual and means that it is very important."
He explained different types of kosher dairy products, how kosher grape juice is considered wine and must adhere to a complicated system of regulation and that produce from Israel might not be the consistent choice of Orthodox Jewish people.
"Produce from Israel needs to be tithed," he said, "So there needs to be documentation that this has happened. The Orthodox community would appreciate it if you indicate what produce comes from Israel because of this special restriction."
He explained that "kosher" means "fit" or "proper" and indicates that a food has been prepared in accordance with Jewish law. what "kosher for Passover" involves and how Orthodox Jews prepare their homes for the Passover holiday.
Some of the rabbi's remarks were rather humorous, especially when he revealed that a food additive in some cherry soda is made from beaver glands, which got quite a rise out of his audience. Castoreum, from the castor glands of beavers, is used as a substitute for vanilla--and beaver, said the rabbi, is "definitely not kosher."
Another light moment was his discussion of turkeys.
"How could this animal be kosher when it originated in North America and was unheard of when the kosher laws were written?" he asked, answering with a smile that turkeys "have been grandfathered in as chickens." (He later said that there are other rabbinic answers to this question.)
Rabbi Rosenberg concluded by offering his opinion on what would make a kosher Mariano's™ successful.
"It's perhaps not what you think," he said. "It's community—seeing others from the Orthodox community shopping there and feeling as if the store is part of the community. Of course the food and the customer service are important—but ultimately the Orthodox Jewish shoppers need to feel that the store is reaching out to them and becoming part of their community."