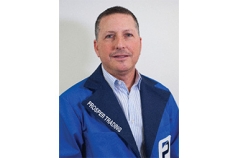 One of Scott Bauer's most notable endeavors was founding the Lauri S. Bauer Foundation For Sudden Loss. After his wife, Lauri, suddenly passed away in 2011, Scott looked for organizations to help his grieving children but could not find any that worked specifically with young families. With the help of his friends and family, he founded the Lauri S. Bauer Foundation For Sudden Loss, an invaluable community resource that supports thousands of people each year. The cornerstones of the Bauer Foundation are two grief centers, located in Deerfield and Evanston, that specialize in helping children deal with loss. The Foundation also supports numerous grief camps for children, and an outreach program that provides training for school staff and first responders about how to deal with children's grief.  
When Scott was looking for his own grief support, he recognized a need in the community for grief services focused on younger adults dealing with loss. The Foundation established a partnership with Jewish United Fund (JUF) and JCFS Chicago to offer grief support groups for adults under 55. Quarterly virtual evenings of support, hosted by JCFS and the Bauer Foundation, provide people with ways to deal with grief and a safe space to share their experiences.
Scott sees the growth and reach of the Bauer Foundation as not only a demonstration of the continued need for grief and loss services, but also a testament to the altruism within the community. He is incredibly grateful to everyone that gives their time, energy, and financial support to sustain the Foundation's important work.
"The Lauri S. Bauer Foundation For Sudden Loss helps grieving children and their families navigate the bumps in the road, getting them back to some sense of normalcy." – Scott Bauer
For over 35 years, Scott has been a financial trader and educator, and is deeply connected to Jewish communal life in the Chicago area. Scott is the founder and CEO of Prosper Trading Academy, an organization that teaches business and trading to 15,000 students, and a regular contributor on many of the major business news channels. Scott and his second wife, Amy, each have three children, and they live in Long Grove.