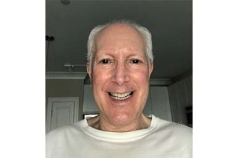 Louis Robinson, a retired diplomat and businessman, is a current member of the Resource Development Committee (RDC) at JCFS Chicago. Growing up in Skokie during the 1960's, Louis was acutely aware of social justice issues and was very active in Jewish communal life. His Bar Mitzvah was during the Six-Day War in Israel, which had a deep emotional effect on his family and inspired Louis to move to Israel at the age of 18 and study at The Hebrew University of Jerusalem.
Over the next 30 years, Louis would enlist in the Israeli army, live on a kibbutz, join the Israeli Ministry of Foreign Affairs, get married, and have three children. Work eventually brought him back to the Chicago area. Later, Louis was remarried to Jackie Robinson, who is also from Skokie and has three children. Today, Louis spends his time traveling between Israel, Florida, and Chicago, visiting his children and sixteen grandchildren.
Louis has always understood the importance of supporting children and families during times of hardship, a sentiment that has carried over into his time with JCFS. When studying at Hebrew University, Louis joined a program that assigned him as a part-time guardian to a child who was taken from his parents because of domestic abuse. It was a tremendous commitment, but the experience opened his eyes to the significance of dedicated and accessible social services. As part of the RDC, Louis draws on this experience as inspiration for raising the visibility of JCFS' work and encouraging people to support the organization at higher levels of giving. He appreciates the tangibility and impact of JCFS' services and feels proud that his support is directed to those that need it most.
"The ability and the privilege to impact people's lives in a positive way directly in our community." – Louis Robinson on JCFS Chicago