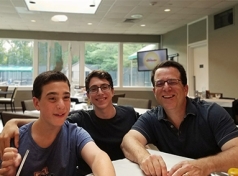 Todd Grayson has been a member of the JCFS Chicago Board since 2017. Emily Keith just joined in 2022. They are the two co-chairs for the 2023 A Striking Event – the largest annual fundraising event at JCFS.
As part of the event, Highland Park Mayor Nancy Rotering will be honored with the Irving B. Harris Leadership Award for guiding her community following the Highland Park shooting. Jodi Newmark will be given the What's Possible Award for starting the Jewish United Fund (JUF) program, Encompass, which focuses on expanding Jewish community-based services for adults with intellectual/developmental disabilities, after seeing the need based on her own son's experiences.
Here are Todd and Emily's answers to questions surrounding why they are so passionate about supporting JCFS:
How were you first connected with JCFS?
TODD: My wife, Marcia, is a social worker. Her internship was at what was then Jewish Children's Bureau. Personally, I was first introduced at A Striking Event about 15 years ago. My family is also part of the intellectual and developmental disability (IDD) community. I joined the JCFS Board after I completed some other commitments.
EMILY: JCFS Board member Adam Tarantur is a longtime friend. He called me a year ago, introduced me to JCFS and started talking with me about joining the board.
Why is spending so much of your own personal time and energy with JCFS so important to you?
EMILY: I'm a former special education teacher, and now my husband and I have two young children.  My uncle lives with mental illness and two of my grandparents were immigrants and holocaust survivors.  With these personal connections and experiences, I am constantly reminded of the inequities that exist for people with varying needs.  Throughout my whole life, I've had this yearning to support and raise awareness of the fact that there needs to be more funding and access to social services.
TODD: I think it's important to have more than just a work life and a family life. Being part of the community makes me feel more complete, and I know many people who have been impacted by JCFS services.
What has been your favorite thing about being on the JCFS Board so far?
TODD: Working with the people I have met over the years while serving on the board.  Everyone is so committed to their work.
EMILY: Interacting with the staff has been one of my favorite things. I've been really impressed with the level of professionalism and expertise that I have been engaged with across the board.
What excites you most about this year's A Striking Event?
TODD: Both award recipients are fabulous people who care about their community, and they each represent a major part of the agency's mission.
EMILY: I like to say that JCFS is one of the best-kept secrets in the Chicagoland area, so I'm just excited to bring the awareness about the force that is JCFS to a newer group of people.
Has your Jewish faith played a role in the way you approach your work on the board?
TODD: Supporting an agency which performs "acts of kindness" to others on a daily basis in both the Jewish community and the local community is something which I find quite rewarding.
EMILY: Tzedakah – "giving back" – is part of our duty as good citizens, and I have such personal connections to how JCFS could have supported my family and its roots.
What would you say to someone considering a volunteer role or a donation to JCFS?
TODD: Whether it is time or money, any contribution is well spent. JCFS truly gives its best effort in its mission to lift up our neighbors.
EMILY: No role is too small. Just seek to understand what the agency does. There are opportunities to get involved at all levels – donate a toy, spend a morning volunteering, sit on a committee, etc. It's each of those elements that the agency and the board need, and collectively is what makes the engine run.