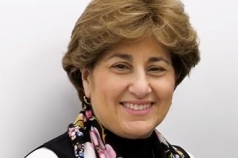 Elizabeth Walder is the President and Executive Director of Walder Foundation, a private family foundation with a mission to uplift local communities and elevate Chicago's contributions to the world.
Originally from New Jersey, Elizabeth moved to Chicago in the '90s shortly after marrying her husband, Joseph Walder. The couple immediately saw opportunities to improve their new community. Over the next decade, they established three organizations to deliver high-quality religious and secular education:
Walder Science, which provides educational science enrichment through the lens of Jewish values.

Walder Education, a center that provides tools and resources for Jewish educators to custom-build creative curricula.

Kehillah Fund creates Jewish continuity by providing community-based, centralized funding to the 11 Chicago-area Orthodox Day Schools. 

 
In 2018, the Walders sold Integrated DNA Technologies, a company that Joseph founded in the late '80s and where Elizabeth worked as the Chief Sustainability Officer. Using proceeds from the sale, the couple established Walder Foundation, drawing from their lifelong passions to support science innovation, environmental sustainability, the performing arts, Jewish Life, and migration/immigrant communities. 
Recently, Walder Foundation awarded a generous grant to JCFS Chicago in support of HIAS Immigration & Citizenship's Refugee Resettlement Program. Elizabeth has always been passionate about migration. Growing up, Elizabeth recalls her mother sharing colorful stories of her work with an entertainment lawyer in the 1940's who assisted talent from other countries to come to the United States. She introduced Elizabeth to the promise of immigration and the exceptional role immigrants have played in building our country. Driven by the Jewish value of "welcoming the stranger," Elizabeth went on to direct a private immigration law firm focused on helping migrants navigate critical challenges and achieve their dreams.  
Elizabeth believes immigrants and refugees enrich our society and works hard to give them the opportunities and resources they need to flourish. "We've all come from a place outside of this country," Elizabeth says, "and I believe the United States should be a refuge and a welcoming country for all." 
Elizabeth and Joseph are grateful for all the Chicagoland community has given to them and want to do their best to give back. Their goal is to turn Chicago into a resilient, sustainable, and creative hub for people of all backgrounds to find exciting new paths to growth and success.