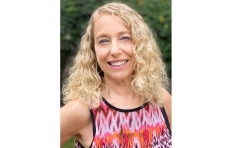 Cheri Grossman grew up in the Chicagoland area, and after earning an accounting degree from the University of Illinois, built her career in real estate finance. She is a current JCFS Chicago board member and chair of the Resource Development Committee (RDC). Cheri lives in Deerfield with her husband, Barry, and has two adult children — Katie and Andrew, who both live in Chicago.
From a young age, Cheri was connected with JCFS through her mother who worked as an administrative assistant for the Jewish Children's Bureau (JCB), a predecessor to JCFS Chicago. Many years later, while Cheri was working at JRG Capital, she was approached by Harry Huzenis, a principal at the firm and JCFS board member, and asked to join the board. Harry and his brother Charley – also a principal at JRG Capital – had both spent time in a JCB group home growing up, and they often spoke of the profound impact it had on their lives. Cheri's early connection to JCFS along with the request from Harry and Charley inspired her to join the board.               
Cheri had never been on a board before, so she spent her first few years getting a feel for JCFS. With no prior experience, being part of a board turned out to be nothing like what she had expected. Not only did she see board members tackling real challenges for the organization, but she was impressed with the professionalism, passion, and leadership of the JCFS staff. Over time, Cheri was asked to do more, and she increased her involvement. Each time she has been asked to take on more responsibility, Cheri remembers a conversation she had with former JCFS Chief Operating Officer, Margaret Vimont. She expressed her concern that Cheri may not be willing to do new things because of her inexperience, but Margaret saw much potential in what Cheri could offer the board and the agency. She encouraged Cheri to say, "yes"
So, a few years ago, when Cheri was approached to lead the Resource Development Committee, it was with Margaret's voice in her head that she promptly said yes.
Once Cheri got involved with the committee, she realized that the RDC is the true revenue generator for JCFS. While JCFS receives revenue from a variety of sources, Cheri believes individual giving, grants, and corporate sponsorships are where all the potential for growth is. Thus, entering her second year as RDC chair, Cheri is excited to improve upon the success of last year. JCFS saw tremendous momentum last year in terms of fundraising, speaking volumes to the value donors place on the organization's work. Part of her strategy is to use the newly established three-year Development plan as a way to hold herself and fellow board members accountable to their goals. Cheri is excited and committed to ensuring the sustainability of the organization by making sure resources are in place to continue to provide critical JCFS services to the community.
"The passion and compassion for the mission permeates throughout the staff, leadership, and board of JCFS." – Cheri Grossman