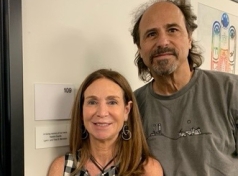 The JCFS Chicago Endowment Foundation helps ensure the continuity of essential life sustaining programs and caring services that JCFS Chicago provides. As an Agency of the Jewish Federation/Jewish United Fund (JUF), JCFS Chicago established the Endowment Foundation, in partnership with JUF, to meet the growing needs of our community. 
We are pleased to highlight Toby Bernstein and his wife Lynn Freeman. They have established endowment funds for both JCFS Chicago and the JUF Campaign Continuity Fund.  
Toby and Lynn's commitment to JCFS reflects their own family histories and relationships with JCFS' services. Lynn's father, Alan Freeman, was born and raised in the Chicago Jewish Home for Orphans (now known as Woodlawn Hall). Located on South Drexel Avenue, it was home to as many as one hundred Jewish children. 
Alan's father Bernard Freeman took the job of Superintendent in 1924, just before Alan was born. To this day, Alan has many fond memories of his life growing up at Woodlawn. It provided a safe, secure, and caring childhood environment infused with Jewish traditions and values. While it closed its doors in early 1944, these early Jewish communal homes were supported and overseen by a Board of Directors, including many prominent Jewish business and civic leaders of the day. 
The Chicago Jewish Home was a predecessor to the Jewish Children's Bureau (JCB), which itself evolved into what is now JCFS Chicago. 
Toby's connection to JCFS was influenced by the care his mother received from JCFS' chaplains and social workers who came to their family home during the final weeks of her courageous battle with colon cancer. Toby remembers the compassionate and meaningful support his mother and his family received from JCFS during those extremely difficult weeks and the final days of his mother's life. He believes that his involvement serving on JCFS' Board of Directors from 2010 - 2017 was therefore not entirely a coincidence. 
More recently, Toby has shared their experience losing Lynn's 23-year-old niece Natalia to an accidental drug overdose in April 2021. Toby said he and Lynn turned to JCFS for chaplaincy and grief support services, including their Shiva (during the pandemic) as well as a facilitation of a group discussion and memorial where family and close friends shared their own personal memories of Natalia and their relationship with her.  
Recently, Toby and Lynn dedicated a plaque in memory of Natalia, and placed it outside the office of Rabbi Joe Ozarowski, Rabbinic Counselor and Chaplain at JCFS. This special plaque was in recognition of the importance of JCFS' chaplaincy services both to their family and to the community.  
Toby and Lynn consider their Endowment Funds to both JCFS and to JUF as "investments" helping to ensure the continuity of essential JCFS and JUF programs and services for both current as well as future generations. 
To establish an endowment in memory of a loved one or to honor someone who has made a difference in your life contact Michelle Maer, Director of Individual Giving, to discuss possibilities in setting up an endowment or legacy fund.