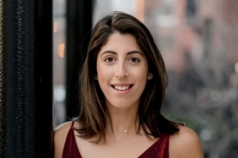 Aliza Gross is a burgeoning young philanthropist, community leader, early childhood educator, and now, a new donor to JCFS Chicago. Born in Highland Park, Illinois, she attended the University of Michigan in Ann Arbor where she studied Psychology and Communications. After working in public relations for several years, Aliza realized she was not satisfied with her career and wanted to make a change. Looking to make an impact on her community, it wasn't long before she made the decision to become a preschool teacher. Growing up, she was a camp counselor for many years, volunteered after school at the local Montessori school, and worked on philanthropic projects with her mom who was on the board at Lurie Children's Hospital. Over time, working with children turned into a true passion, and becoming a teacher was a natural fit.
Aliza's enthusiasm for philanthropy and volunteering developed at a young age and today she sits on numerous boards. Recently, she joined the Lurie Children Hospital's Junior Board, where she volunteers every week, and she also gives her time to the U.S. Holocaust Memorial Museum's Next Generation Board and the Young Women's City Council at Jewish United Fund of Metropolitan Chicago.
A commitment to both children and philanthropy inspired Aliza to make her first gift to JCFS Chicago. Last month, Aliza made a $50,000 donation to sponsor a full year of service at the Virginia Frank Child Development Center Consultation and Training Institute. The Institute provides consulting, training, and evaluation to early childhood centers throughout the Chicagoland area and promotes the social and emotional development of young children. As an early childhood teacher, Aliza sees children with a range of social, behavioral, and academic abilities, and she understands the positive impact of early intervention.
Many times, the key to a child's success is simply the extra attention or support from a trained specialist that might not be available in a general classroom. As such, Aliza believes it's crucial to provide teachers and intervention specialists with the resources and training necessary to deliver these additional services, particularly in underserved communities. Moving forward, Aliza plans on being a hands-on, involved donor, meeting with the program's executive leaders, interacting directly with the children receiving services, and supporting the various milestones and goals the Institute strives to achieve.
As a dedicated volunteer and passionate philanthropist, Aliza is setting an example for the next generation of leaders in our community. She believes it's imperative that her generation and future generations find ways to connect to the community, understand the needs of those who are less fortunate, and take action to better their lives. Her advice to young professionals who are looking to make a meaningful impact in their community is to find organizations with missions that align with their personal passions and values. Working alongside like-minded people who care about others is a really grounding experience, and for those who are graduating college and starting their careers, it can be an excellent social outlet as well. Overall, when it comes to philanthropy, Aliza believes it's important to lead by example. As she always says, "If not me, then who? And if not now, then when?"
Through her career and volunteer work, Aliza's commitment to children and philanthropy work in harmony to fulfill her life.