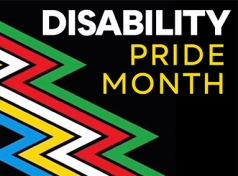 June is LGBTQ+ Pride month, a month in which we celebrate the beauty of our differences. But for Disability Pride month, the word "pride" is defined a little differently. The "pride" is about embracing neurodiversity and celebrating people with disabilities, while helping the community to understand that everyone matters and deserves to be included.  
This month is an opportunity to give a voice to people with disabilities and a platform to push for positive change.  
"Celebrating what an individual can do despite their limitations is really positive, but I think people need to bring up genuine issues on social media more," said Victoria Chiudian, a professional social media consultant. "Like, working with groups trying to improve public transportation access… or lobbying to pass new zoning for accessible housing, stuff like that." 
JCFS offers numerous programs and resources for people with disabilities and their families. To build a more inclusive community, we provide social activities for adults with disabilities, assistance and training for independent living, and educational and support groups covering a variety of topics of interest to people with disabilities and their family members. 
"As a person with some limitations, it is sometimes a little awkward to educate people [about individuals with disabilities] so we have to guide them on how to approach the topic," said Guadalupe Ivancevic, a JCFS Employment Specialist with the Duman Opportunity Center, which helps people with disabilities reach their employment goals. 
At JCFS, our Services for People with Disabilities (SFPD) hosts Community Education workshops, a platform that offers informational presentations on topics relevant to people with intellectual/developmental disabilities, as well as their families, professionals, and the larger community in support of people with disabilities.  
Past topics have included dealing with bereavement, inclusion in faith communities, and understanding guardianship. For current offerings and to register, visit the JCFS Chicago calendar. 
Or, if you have a topic that you are interested in presenting for Disability Pride Month, Community Education invites presenters of all abilities to contribute. Those interested are welcome to contact Kate Dougherty or at 773.765.3158. Disability Pride Month is an important time to honor the diversity and uniqueness of each person in the disability community and celebrate people who have disabilities.