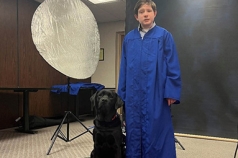 Service dogs have become increasingly commonplace in recent years as experts have discovered how useful they can be for accommodating people with disabilities. However, they are often confused with "emotional support" animals, another recent trend. The true definition of a service dog (or in some cases, a miniature horse) is that they are individually trained to do work or perform a task for someone with a disability. "Service dogs are really valuable for helping their owners become more independent," said Kathryn Dougherty, a Case Worker at JCFS Chicago and a proponent of service dogs. "They help people feel more confident and in control of their surroundings."  
Chris and Damon (pictured above) represent one incredible case of how a service dog can change someone's life. Damon was a donation to the organization Retrieving Freedom, a nonprofit that provides extensive service training to dogs. After two years of training, Damon was assigned to Chris, a 14-year-old boy with autism.  
Damon helps Chris with a few specific mitigation tasks. Chris tends to wander off on his own, so Damon is trained to spot that and give Chris a friendly reminder to focus on his surroundings. When Chris is in school and therapy, Damon will put his head in Chris' lap for general anxiety relief, calming him down. The presence of the dog also helps with stressful situations like doctors' visits.  
"The first time Damon accompanied Chris to the doctor, the doctor was raving at how easy an appointment it was. He totally makes Chris feel calm," said Elizabeth Geller, Chris' mother. "The bond between the two of them is just unbelievable."  
If you think a service dog may be the right choice for you or your loved ones' situation, check out Canines for Disabled Kids and Retrieving Freedom to learn more.