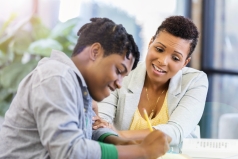 This month we celebrate our amazing staff and foster parents for the incredible work they are doing to support and uplift each other, and the youth in their care. As our foster parents take on the roles of caretakers, teachers, and so much more, they are extremely grateful for the continued support of the JCFS Child Welfare team. Our staff has been working hard to keep foster families feeling safe, calm, and supported through regular check-ins, and by delivering special care packages of toys, games, puzzles, art supplies, masks, and gloves. They are also keeping families engaged by providing virtual story times and access to online field trips and other community resources.
"Our foster families have found these simple gestures to be very helpful and much needed during this uncertain time. We are here for them," said Keesha Brooks, JCFS Foster Parent Support Supervisor.
Over the last few months, we have seen people extend their kindness to help others in need. Recently, there was an urgent need to place a pair of foster siblings with complex issues. One of our new JCFS foster parents, Ms. Walton, generously stepped up and opened her home to them. This was the first time she had youth placed in her care, which came with some challenges, but she knew the siblings needed her support and guidance now more than ever.  Thank you for all you do! 
Already know you want to become a JCFS Chicago Foster Parent, or would like more information? Please complete an inquiry form and a member of our Foster Care team will be in touch shortly, or contact Keesha Brooks at 312.673.2782. 
If you would like to help support the JCFS Foster Care program, please consider a donation of the following recreational items and PPE supplies.
masks

gloves

hand sanitizer

cleaning supplies

small containers

glue/glue sticks

glitter

markers

scissors

white paper

crayons

adult coloring books

kids' activity books
Please call 773.467.3895 to make drop-off arrangements. Thank you for your support.