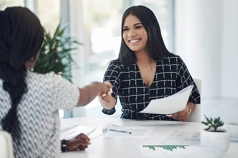 When Natalie's job turned into a toxic work environment, she left the position after 15 years and turned to JVS Career Services, lacking self-confidence and unsure of her next steps.  
After partnering with a career counselor, Natalie worked toward her next employment goal and established several job search strategies. She attended career counseling sessions to learn how to successfully transition to a new job, attended multiple workshops to build her knowledge and skills, and participated in the Motivation and Accountability group to receive support and stay focused.  
With her career counselor's help, Natalie selectively sent out resumes and expanded her professional network. After only two months of assistance, she was offered a new position in her chosen field. Now Natalie is equipped and excited to begin this new chapter in her life.  
JVS Career Services is one of 19 agencies offering career and employment resources through Project EM, a national initiative, created to support individuals struggling to secure employment. By providing coaching, training, skill building, and the needed support to find a good job that pays a living wage Project EM empowers jobseekers to find meaningful work.  
For more information call 855.275.5237.