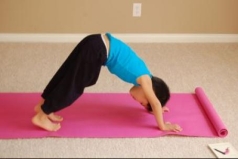 The Integrated Pediatric Therapies at JCFS Chicago is offering Yoga for Kids for children (preK-3rd grade). Come join our Occupational Therapist in a fun, child-centered environment that merges age-appropriate yoga practices including breathing techniques and animal poses with other play, art and social game experiences. This class encourages exploration of early yoga practices while building your child's gross motor skills, coordination and body awareness.
In "Ask a Clinician" style, we share the ins and outs of Yoga for Kids, and how it can benefit your child.
Why Yoga for Kids?
Yoga gives kids a safe, fun and playful way to explore their bodies at their own pace and level. It can help improve coordination, attention, self-awareness and helps foster self-esteem and confidence.
If my child has special needs, will s/he fit in?
This class is geared toward all children, including both typically developing and those with special needs. Participants are rated on an individual basis for fit and not on diagnosis or abilities. 
As this class is taught by a licensed Occupational Therapist, aspects are geared more toward individual needs vs. traditional yoga class structure. Extra supports will be used including visuals and pictures in order to fit the needs of the students in the class. The focus of this program will be to move at the child's pace.
How does yoga support development for kids (preK-3rd grade)?
Many important life skills are developing during this age. Yoga can help improve social engagement, develop fine and gross motor skills, increase body awareness (knowing where your body is in space) and improve receptive language and processing skills (understanding and following directions).
My child has never done yoga before, is that okay?
Of course! Yoga is designed to establish and create positive self-esteem and confidence within all who practice. This class is designed to move at your child's own pace and level. Each child will be addressed on an individual basis and met with his or her own needs.
Integrated Pediatric Therapies Groups Services serve infants, preschool and early elementary aged children. We bill insurance. Please ask about our partnering insurance plans.
Please call us for more information and start dates. Groups are on-going and run year-round. Learn about all of the groups offered by Integrated Pediatric Therapies at jcfs.org.
Photo credit: Lovely Yoga