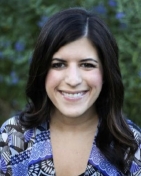 Alexa Ehrlich approaches her volunteer work on the Response Advisory Council (RAC) from a religious and community-oriented perspective while drawing insight from her professional life. Born in Danville, Illinois, Alexa's family was one of only fifty Jewish families in town. Growing up she was very aware of her Jewish identity and values which were instilled from a young age. As a child, she learned about the Jewish value of Tikkun Olam and understood that people behave more constructively when acting together as a group. She learned that sometimes we are the beneficiary of other's hard work, and sometimes are the benefactor. It is this concept of inclusivity and care for others that drew Alexa to Response for Teens, and its focus on building a sense of community for young people.
Alexa is a Couple and Family Therapist, and one of her main areas of focus is sex therapy. Connected to Response through shared values, Alexa's professional life informs and augments her experience on the RAC, helping teens feel empowered, informed and respected. As a young person living in the city, she tries to stay in-the-know about sexual health awareness and sex positivity in general. She understands that young people are not necessarily going to get the education and guidance they need to live healthy lives, so it's essential that organizations like Response are equipped with the appropriate resources and knowledge to provide that support. By going to virtual seminars and staying informed, Alexa is able to keep the RAC up to date on the world of sexual and mental health awareness.
While her energy is well spent as a volunteer, for Alexa, contributing financially to Response is equally as important as her time. Though she knows that a donation of any amount is always greatly appreciated, as a donor, Alexa believes that it's important to give an amount that is noticeable. In the spirit of Tikkun Olam, donating a significant portion of one's income demonstrates and amplifies a sense of togetherness and partnership that is not felt otherwise. To Alexa, sharing the wealth feels good. As a child, she was sent to summer camp because of the generosity of a sponsor, a memorable experience she would not have had without financial support. Having been the beneficiary and now in a unique and fortunate position as the benefactor, Alexa is always going to pay it forward and lift up those around her.
"Being on the RAC is both a privilege and a responsibility. It allows me to see the evolution of Response up-close and personal, which makes me very proud of what we're doing to support the community," shared Alexa Ehrlich.