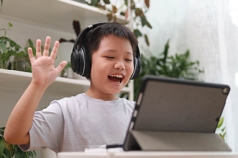 We often talk about how the internet has transformed the way we live and perform daily tasks. Whether it is having virtual doctors' visits, watching shows, buying household goods, ordering prescriptions, or connecting with friends and family, the internet has made all these activities convenient and easily accessible.
Mental health services are no exception. Telehealth services have reduced some of the barriers to receiving mental health counseling using digital technology. Teletherapy (also known as telehealth counseling) is especially helpful to clients that do not have the ability to visit with their mental health counselor in person.
Some people working with our JCFS counselors have medical issues that limit their mobility. "The only option used to be a Medi-Car that would transport our clients, but they were on a set schedule," said Devorah Greenfield, Assistant Director of Adult and Family Counseling. "That meant sometimes clients would have to wait a couple hours in the waiting room with nothing to do."
With remote therapy as an option, it is easier for people to integrate therapy appointments into their daily lives. Not to mention the money they save on transportation (which has the bonus of being eco-friendly).
Since it was not feasible to meet in-person last year, Jennie Marble, Director of JCFS Integrated Pediatric Therapies (IPT), used Zoom to provide consultation and virtual tours of our clinic to demonstrate how to effectively use teletherapy. When JFS Florida was looking to open a new clinic, she was able to dispense advice on everything from the type of chairs we use and how to design a Snoezelen room (specialized sensory experience space) to funding sources and insurance contracts meeting virtually over several months.
While teletherapy is convenient, our hope is that it remains an option rather than a necessity. However, if teletherapy is your only choice, keep in mind that certain goals may not be appropriate or possible to work on through virtual counseling.
Use teletherapy as an opportunity to work on other skills and routines in your home environment. You should feel comfortable sharing new concerns that arise and discussing those with your therapist so that goals can be modified to meet current needs.
There is no replacement for in-person counseling, but the normalization of teletherapy has been a positive trend to come out of the pandemic. Virtual learning and therapies are new to many people, but we are here to help. Whether setting up schedules, providing structure in the home or offering new strategies and parent coaching, our therapists can offer support so that you feel more confident using telehealth.