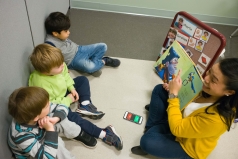 JCFS Chicago's Integrated Pediatric Therapies (IPT) is celebrating its 20th anniversary this year. Over two decades, IPT has continually adapted to the needs of the community they serve. "Our treatment is not static," shares Jennie Marble, Director of Integrated Pediatric Therapies. "We have continued to change to meet the needs of our children and their families."
IPT grew as an extension of care from our former preschool for students with autism. To attract more referrals, we began offering early intervention. Clients would come for speech and occupational therapy then move into the preschool when they turned three years old. Marlies Gramann, one of the first IPT staff members and now the Associate Vice President of Disability Services, remembers seeing their first client. "I need to thank that child because he taught me so much about autism. You learn from every single child and those after him definitely benefited."
As clients aged out of early intervention, the program grew to accommodate their needs. "They didn't want to stop seeing their therapists," Marlies said. "Initially we served birth through kindergarten, then birth through nine, now birth through adolescence," Jennie adds. "We've adapted to the needs of the community and blossomed."
Flexibility and resilience were imperative last March when COVID became a part of our lives. IPT adjusted to the circumstances of the pandemic by providing teletherapy by working with families over video. Teletherapy has been so successful that the IPT team plans on offering it post pandemic. "I want to continue finding new innovative ways to support children and their families," Jennie said. 
One of IPT's goals for the future is to build inclusive communities. "Twenty years ago, there was a focus on changing the behaviors of someone with a disability instead of changing the behaviors of the community to be more welcoming," Marlies said. A huge shift has been working closely with the client's families. Jennie described the parents as being part of the IPT team. "You can only do so much when you see a client for an hour a week, there is an exponential effect when the family is included," Marlies shared. Including families also promotes inclusivity in their defined communities. "We want to continue to create space in society where our client's communities accept and ultimately benefit from these relationships," Jennie said.
Over the years, the IPT team has kept relationships with past clients. Jennie reports that she still keeps in contact with families she saw when she joined the staff thirteen years ago. A father recently shared with her, "My child and I both recognize that the support received from IPT was instrumental in him being successful in high school. Thank you all very much for being committed to helping kids who need it."
For more information about IPT or to schedule a speech-language or occupational therapy appointment for your child, contact Integrated Pediatric Therapies at 847.412.4379 or email us.