From summer programs to support groups to teen leadership retreats, there's always a lot going on at Response Center.
Our ongoing events and programs include:
2022 Extraordinary Adolescent Award
Congratulations to Eli Coustan, the 2022 Extraordinary Adolescent Award winner!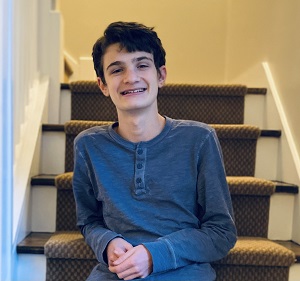 Eli Coustan is an excellent student, entrepreneur, community activist, and athlete who has made incredible contributions to his community. Inspired by his grandparents during Covid, Eli developed FindACovidTest.org, and Vaccines.gov which help people find tests and vaccines. These free and accessible databases of COVID vaccine and testing locations in Illinois were created to help seniors make high-demand appointments. As a freshman at Evanston Township High School, Eli is a member of the debate and cross-country teams, community service club, and ETHS tech support services. Outside of school, he volunteers as a Sunday School teacher at Beth Emet Synagogue and is a recent Future of Evanston Youth Awardee.
Operation Snowball
Planned and led by teens for teens, Operation Snowball is a fun, intensive yearly weekend retreat that helps participants develop confidence, purpose, and leadership skills. Join us in 2022 for this very special, three-day retreat to meet other teens with similar interests and engage in stimulating, conversations and activities lead by their peers—supported by adult leaders—that both encourage open discussion of belief systems and inspire extensive self-reflection.
Summer Programs
We offer a variety of engaging, hands-on summer programs for teens focused on topics of interest to them. Kids spend the summer socializing, learning, and above all, having a great time.
Educational & Support Groups
Throughout the year, our staff leads support groups where you can talk honestly and openly with other teens about important issues like gender identity, stress reduction, self-esteem, and more.
Annual Benefit
Tuned In: The Larry Dobkin Event
JCFS, Response for Teens, and the Response Advisory Council express our since thanks to everyone who supported Tuned In: The Larry Dobkin Event. Thanks to you, we raised almost $300,000 which will support young people ages 12 – 24 and their families in the Chicago Jewish and general community with counseling, community education, and leadership development programs. 
To stay updated on our ongoing events and programs, check the JCFS Chicago calendar to see what new events and programs have been added!