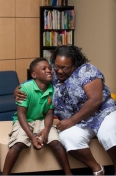 By Marc Bermann, Foster Parent Recruiter
There are approximately 20,000 children in foster care in the state of Illinois.
50% of them have chronic medical problems; 30% are victims of various forms of abuse and neglect. Many of them have significant issues of attachment and loss resulting from childhood trauma.
Prior to foster care, sometimes these children are removed from their home and taken into protective custody by the state.  They may be placed in a temporary shelter or substitute care with a relative. Biological parents can terminate their parental rights by choice or court mandate.
When this happens, the state will contract with a social service agency, like JCFS Chicago, and help place the child in a licensed foster home. Despite these many hardships, the most challenging of all is the child's perception and understanding of what is actually happening to them.
Living in the most loving and nurturing foster care home environments, children can develop unrealistic expectations and hopes about where and with and whom they will ultimately live with, creating conflicting loyalties about biological parents vs. foster parents. If the goal of "return home" or "permanency placement" is prolonged, children's feelings can range from extreme ambivalence (lethargy, isolation, depression) to behavioral acting out (object aggression, stealing, truancy, running away).
Children in foster care want a sense of normalcy and an identity as part of the family unit. A foster care home, whether with a single parent or couple, affords a child the opportunity to develop healthy emotional intimacy, trust, self-esteem and the opportunity to learn valuable life skills.
A foster parent's most important role for the duration of the child's stay is to be that of a teacher and/or mentor. Foster parents can help children learn responsibility, teamwork, commitment and respect by virtue of being good role models. A foster parent must be child-focused 24 hours a day and be willing to be held to a higher standard of parenting than many biological parents. Although the state provides financial support for foster children, foster parents do not receive salaries for their efforts. And, in spite of the constant challenges and tests of one's patience, there is little recognition for the work that is done. It's critical to the outcome of a child's welfare, that a person considering becoming a foster parent do it for the right reasons.
To qualify for a foster care license, an individual or couple must pass a background check, show proof financial stability, be physically and emotionally healthy, pass a residential standards inspection, complete over 40 hours of classroom training and participate in an agency team interview; all to be completed before being recommended for licensing by DCFS. Once licensed, however, the foster parent becomes the most important member of the child care team, which includes legal advocates, therapists and case managers, as well as the support group of other foster parents in a particular agency.
Not everyone can do this work.
There are many stories told by former foster parents, who, in spite of their best efforts, did not renew their licenses because the challenges were too great. On the other hand, there are foster parents who have had many children live in their homes over the years; care-givers whose lives were enriched by the experiences they shared with their foster children.
Gladystine Jones, a foster parent who received training from JCFS Chicago, opened her door to three foster children after raising four children of her own. She has consistently provided structure, empathy, authenticity, discipline and love the children needed to flourish.
Although being passed from home to home can make a child feel unloved, when children in foster care believe that they are important to someone, it can make a world of difference.
For more information about the Foster Parent process, call 855.ASK.JCFS (855.275.5237) or e-mail ask@jcfs.org.
JCFS Chicago embraces all religions, races, ethnicities, sexual orientations and gender identities.