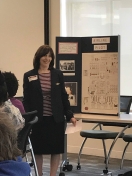 When students at JCFS Chicago's Knapp High School enter their Freshman year, they are already encouraged to begin thinking about what they want to do when they graduate. Transition and Vocational supports are provided to help students begin to think about their interests, strengths and potential career paths. Additionally, the school job program and Life Skills room provide students with hands-on opportunities to get a flavor of what it's like to hold a job. 
In the late spring, the Knapp School had the pleasure of hosting their very first Career Day.  Students from many middle- and high-school classrooms participated. High school students signed in by taking their name tag which included the career they hope to pursue in the future.  Professionals in engineering, aviation, medicine, law, teaching and entrepreneurship/business shared their stories and work experiences with students, and then met with students individually to ask questions and gain more in-depth information about their career.
Thank you to the volunteers for taking time out of their busy day to share their professional experiences with students! Learn more about Knapp School's Transitional and Career Counseling opportunities for students.