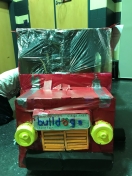 Ms. Stephanie's middle school classroom and Ms. Etty's elementary classroom recently completed a very cool project.  Inspired by a recent conference some teachers attended called ICE, Illinois Computing Educators, hands-on activities and creative learning has made a boost in our classrooms. As a result of attending the conference, Ms. Stephanie has incorporated more interactive learning in her classroom. This type of instruction was inspired by the Maker Movement, beginning in the 2000's as part of an effort to reintroduce creative thinking, problem solving, collaborative learning and student exploration. Experiential learning provides students an opportunity for out-of-the box learning and a chance to engage multiple senses. Students can be more receptive to hands-on activities compared to the traditional methods of learning that primarily focus on auditory processing and only written expression. Ms. Stephanie's students have access to a MakerSpace cart, a place where materials to tinker, create and invent with are stored. 
In an effort to bring together classrooms of different ages where students can inspire and learn from one another, Ms. Stephanie's and Ms. Etty's students regularly partner up and work together for Peer-Buddy reading. Inspired by this creative learning style, both rooms decided to partner up and create 3D models of what they'd been learning in class. Ms. Etty's room read different books, such as a Home for Dixie and built a 3D model of a dog house. Ms. Stephanie's classroom focused on building their 3D models inspired by concept cars, made completely out of cardboard. After all the work was done, students presented their models to the rest of the school. 
Students in Ms. Stephanie's classroom shared their experiences. Justyn said, "this was a fun project and I loved participating in it because it expanded my imagination." Levon shared, "I enjoyed participating in this project, specifically painting the wheels of the car. I learned how to make a cardboard car."
Students and staff alike were excited to learn about each classroom's learning and about how they created 3D models to represent this information. Nice work everyone!