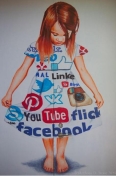 by Alexander Friedman, M. A., Psychological Services Therapy Extern
The Social Networking Parent
Facebook, Snapchat, Instagram, Twitter, YouTube, Pinterest, Tumblr…. These are just a few of the many social media platforms that children and teens use to communicate today. While there are many benefits to being digitally interconnected, there are also many dangers. No parent can possibly keep tabs on everything their children do on social media. However, there are certain measures you can take to help your children use social media more responsibly. But before diving into this subject, let us first briefly review the pros and cons of online social networks.
Risk vs. Reward
The benefits of social media platforms are seemingly endless. Not only are they amazing creative and artistic outlets, but they allow for users to stay connected to far away family and friends, express their feelings and meet new people. In recent years, social media networks have even become great ways to learn about volunteering opportunities and get involved with one's community.(4)
But while online networks are a fun and easy means of communication, it is important to also consider the consequences of social media use. Platforms that publically share information invariably pose privacy risks for users by causing them to share more information than intended. For instance, social media accounts tend to reveal users' real names, photos, birthdates, interests, school names, and the towns in which they live. Also, many new applications automatically broadcast a user's current location (4). Sharing such intimate information on public forums—whether intentionally or not—increases the chances of users being targeted by online predators. This danger is even greater for adolescent users.
In fact, recent studies show:
17% of teens say they've been contacted online by someone they didn't know in a way that made them feel scared or uncomfortable 
30% of teens say they've received online advertising that was inappropriate for their age 
39% of teens admitted to lying about their age to gain access to websites (4) 
So, what can parents do to initiate these conversations with their children? 
Open Communication
Become a lifeline for your child rather than a source of punishment. Speak openly about social media use and let them know that they can talk to you about anything. Show them that they will not be reprimanded for being honest about their feelings or sharing details of their private lives. Opening up these channels of communication with your child will make it easier for you to determine if they need help on and offline. Also be observant. If your child gets off their phone or computer and seems upset, encourage them to talk about it, as their behavior may be related to their social media experiences (3,5).
Practical Privacy
Privacy is a tough issue. How do you respect your child's personal space, while also making sure that they feel and are safe? One solution may be to keep computers in a "public" location, rather than in children's bedrooms. It also may be a good idea to occasionally check computer and phone histories, and require that you know the passwords to all of your children's accounts. However, keep in mind that infringing on your child's privacy may have negative consequences, such as causing your child to push away or making them feel as though you do not trust them. In general, it is recommended that you not violate your children's privacy without justifiable cause, but it may be beneficial to maintain the ability to check up on your children's social media account if necessary (3). 
Establish Boundaries
It is important to establish guidelines for your child's social media use (3). While adolescents can seem more interested in what is happening on Facebook than what is being said at the dinner table, as a parent you can set the rules and guidelines to help your children be more present. However, if you establish a rule, you will have to follow it as well. For instance, parents who spend their dinners writing up that last work email after previously establishing a "no devices at dinner" rule may find their children eager to check their Twitter account at the table (2). 
Social media safety tips to share with children: 
The "Golden Rule"
Just as in the real world, being mean in the virtual world is unacceptable. Providing clear expectations to your children to treat others (in person and online) the way they want to be treated can go a long way in ensuring that they do not post hurtful or embarrassing messages about others4. On this note, ask your children to always come to you if they are experiencing any harassment or cyberbullying (4,6). 
Think Twice Before Posting
Remind your children that once photos, videos, and comments are posted online it is almost impossible to completely erase them from the Internet. As such, it is important to teach your children to be careful what they share about themselves and others online. Advise them to keep private information private. Suggest that if they want to share personal information to a friend, do it in person or by phone or text (1,4). 
A good rule here is: Do not share anything on social media that you would not want your grandmother to see (4). 
Check and Use Privacy Settings
Privacy settings are very important and sometimes hard to understand. As such, it may be helpful to go through the privacy settings on the social media account with your child to ensure both you and they understand each setting. For most social media platforms, the default privacy settings give you the most public exposure, in which people you do not know can see your posts1. Even if you think you are being careful about your posts, it is common for users to post sensitive information without realizing it. 
It also may be a good idea to disable location services on social media accounts when posting comments or sharing photos1. While informing others where you are currently located may seem cool, the risk outweighs the reward. Additionally, remind your child that passwords are meant to protect them and that passwords should never be shared with anyone. In sum, suggest that they keep their social media profile strictly private, so that only friends can see what they post (1,3,4). 
Don't "Friend" Strangers
If you don't know them, don't friend them. While it is great to connect with new people, tell your kids to play it safe and only accept friend requests online from friends in the real world. If they do meet someone new online, they should never agree to meet offline (1). Friend requests from strangers can in fact be online predators, ways of sending spam messages, or even fake profiles created for cyberbullying (3,4). 
Build a Working Agreement
With all these helpful tips to share with your children, how can you best ensure that they actually listen and incorporate your suggestions? One way is to make a social media agreement with your children. A social media agreement is a real contract that both you and your child can sign. This agreement can include elements like agreeing to protect their own privacy, not giving out personal information, or even promising to not use technology to bully, harass, or gossip about others. In turn, parents agree to respect their child's privacy. Some children may be okay with parents taking part in the social media world, but ask that parents agree not to post embarrassing comments or photos of them (2,4). 
Response is a program of Jewish Child & Family Services that works with teens. Sarah Casper-Davis, Response outreach coordinator, advises parents "to not drive themselves crazy by trying to monitor every app or account their children have, instead rely on the relationship you have built. Create boundaries for them, stick to your family's view on what is age appropriate for your child."
Sarah also commented, "Youths' online lives are just as real and important as their offline lives, in fact there isn't usually a distinction, which means as adults we need to be open to it and process just as we would talk about how their day at school was-- listen, learn from them and give them tools to navigate." 
Jewish Child & Family Services offers comprehensive services for individuals, children, adults, couples and families.  For more information visit jcfs.org or call 855.275.5237
Where can I learn more? 
The following websites can provide you with more information about social media and parenting 
References
1. A Teen's Guide to Social Media Safety. (2013). Retrieved March 14, 2016,  from http://www.safesearchkids.com/a-teens-guide-to-social-media- safety/#.Vuq61xIrJsM
2. Ghose, T. (2016, March 14). OMG, Mom! Tech rules kids wish parents would follow. Retrieved March 15, 2016, from http://www.cbsnews.com/news/tech- rules-kids-wish-their-parents-would-follow/
3. Parent's Guide to Protecting Teens on Social Media. (2013). Retrieved  March 14, 2016, from http://www.safesearchkids.com/parents-guide-to- protecting-teens-on-social-media/
4. Teaching Kids to Be Smart About Social Media. (n.d.). Retrieved March 14,  2016, from http://kidshealth.org/en/parents/social-media-smarts.html
5. Wallace, K. (2015, October 14). How parents can stop the worst of social  media. Retrieved March 14, 2016, from http://www.cnn.com/2015/10/04/health/being13-social-media-teens-parents- stress/
6. What is Cyberbullying. (n.d.). Retrieved March 15, 2016, from http://www.stopbullying.gov/cyberbullying
Photo courtesy Flickr.com