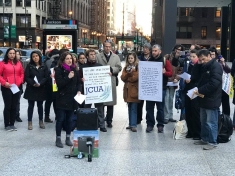 Jessica Schaffer, Director of HIAS Chicago, recently attended an immigration action rally led by JCUA (Jewish Council on Urban Affairs) and the Illinois Coalition for Immigrant and Refugee Rights at Federal Plaza. The rally was in support of immigration reform, specifically asking legislators to pass permanent solutions for DACA and TPS recipients.
 Jessica spoke about the importance of seeing DACA recipients for all of who they are and not just for their immigration status: they are colleagues, students, brothers, sisters, friends, contributors to our communities; and we have a responsibility to raise our voices in support. 
 Since 1911, HIAS Chicago has been a leader in the community, assisting people through the immigration process.  During Passover we are reminded of the obligation to see ourselves as though we have emerged from bondage. This year, as we celebrate and reflect on our freedom, we hope you will join with HIAS Chicago to help those seeking a safer, better life in Chicago.
Photo credit: Jewish Council on Urban Affairs